Подача статей





Zlobin J.P.
GENERALS-GOVERNORSHIPS IN SYSTEM RUSSIAN REGIONAL MAN AGEMENT IN XIX — THE BEGINNING OF XX CENTURY
In article process of formation in Russian empire structures of administration manage-rial control by the suburbs national and remote from the center, submitted by generals-governorships is considered, the legal status of their heads, a place and a role of these territo-rial formations in the general model of imperial regional management is determined.
Key words:
Russia, XIX — the beginning of XX century, regional management, generals-governorships.
References:
1. Ministerial system in Russian empire: to the 200-anniversary of the ministries in Russia: the collec-tion of documents. — Moscow: The Russian political encyclopedia, 2005. — 920 pages.
2. Russian state historical archive (RSHA). Fund 1409. The Inventory 1. Business 4074.
3. Provinces of Russian empire: a history and heads: 1708–1917. — Moscow: The Incorporated edition of the Ministry of Internal Affairs of Russia, 2003. — 480 pages.
4. Institute of a general-governorship and namestnithestwa in Russian empire. In 2 volumes. — Volume 1. The St.-Petersburg state university. A faculty of law. — St-Petersburg, 2001. — 512 pages.
5. Statistical tables of Russian empire for 1856 year, made and issued, under the order of Minister of Internal Affairs a statistical department of the Central statistical committee. A. Gubernii of the European Russia. B. Kavkazskoe namestnithestwo. V. Sibirskie of province and areas. — St-Petersburg, 1858. — 300 pages.
6. Full assembly of laws of Russian empire. Assembly the second. — Volume XXVIII. Branch the first. — St-Petersburg, 1850. — 798 pages.
7. Zlobin, J.P. Sotsiokulturnaja the characteristic of the general-governor's case of Russia in XIX — the beginning of XX century // The Bulletin of the Orenburg state university. — 2013. — №7 (156). — Pages 37–44.
8. Kjustin, A. Nikolaevskaja Russia: Translation from French. — Moscow: Publishing house of the political literature, 1990. — 352 pages.
9. Vitte, S. JU. Memoirs. — Volume 3. — Moscow: AST; Minsk: Harvest, 2002. — 608 pages.
About this article
Author:

Zlobin Yu.P.



Year:

2014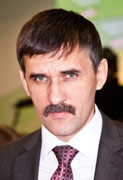 Editor-in-chief
Sergey Aleksandrovich
MIROSHNIKOV