Подача статей





Muslyumova D.M., Davydova S.Y.
INFLUENCE ON CAVITATION TREATMENT MICROBIOLOGY SUNFLOWER FOOSE
The problem of application in feeding young cattle waste oil industry, in particular sunflower fuzz. Existing methods use fuzz in livestock are not efficient enough, due to technical difficulties in the introduction of his diet. In connection with this proposed method of treating samples of sunflower cavitation fuzz. Furthermore, the efficiency of application of cavitation in the samples for the presence of fuzz bacterial contamination depending on the storage time.
Key words:
microorganisms, cavitation, mushrooms, microbial obsemenennnost, fuzz sucks ultrasound.
References:
1. Bykov A.V. By understanding the action of cavitation treatment on the properties of waste production / A.V. Bykov, S.A. Miroschnikov, L.V. Mezhueva / / Bulletin of the Orenburg State University. 2009. — №12 (106). — S. 77-80.
2. Miroschnikov S.A. Effect of cavitation on the bioavailability of fatty acids from waste oil industry // S.A. Miroschnikov, D.M. Muslumova A.V. Bykov // Bulletin of the Russian Academy of Agricultural Sciences. 2012. — №3. — S. 53-55.
3. Miroschnikov S.A. New approaches to the creation of feed products based on vegetable and mineral multicomponent mixtures subjected to cavitation treatment / S.A. Miroschnikov, D.M. Muslumova, A.V. Bykov, etc. // Bulletin of beef cattle. 2012. V.3 number 77. — S. 7-11.
4. Miller DL, Dou C, Owens GE, et al. Optimization of Ultrasound Parameters of Myocardial Cavitation Microlesions for Therapeutic Application. Ultrasound Med Biol 2014.
5. Razavi A, Clement D, Fowler RA, et al. Contribution of Inertial Cavitation in the Enhancement of In Vitro Transscleral Drug Delivery. Ultrasound Med Biol 2014.
About this article
Authors:

Davydova S.Yu., Muslyumova D.M.



Year:

2014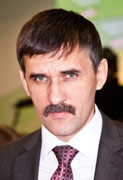 Editor-in-chief
Sergey Aleksandrovich
MIROSHNIKOV