Подача статей





Mkrtchyan S.V.
ADAPTIVITY AS A SISTEMIC PROPERTY OF THE LIVING ENVIRONMENT
In the article the problem of systemic of environment is mentioned and one of its system attributes — the attribute of adaptability is considered. There is the concept essence "the adaptive attribute of environment" explained and given its characteristic.
Key words:
environment, system attribute of environment, living environment, adaptive attribute of environment, system, system approach, system analysis, adaptability, space, object, subject, design, architecture
References:
1. Vernadsky V.I. Scientific idea as a planetary phenomenon. Moscow, Nauka, 1991
2. Rappaport A.G.Criteria of style and environment in the contemporary theory of architecture. NIITAG RAASI Division of the theory of architecture. Performance report, 2010-2011
3. Florensky P.A. Analysis of the aspect of space in the works of arts // Iconstand. Selected publications on art. StPete. MIFRIL, Russian Book, 1993
4. Ikonnikov A.V. Design in the urban environment or design of the urban environment // Design and city. Moscow — 1988. — (Tr. VNIITE, Technological aesthetics series; 57 issue). p.p. 3-17
5. Korotkovsky A.E. Methodological foundations of the systemic theory of architecture. Study aid. Moscow, dop. plan of Minvuz of the RSFSR, 1987, pos. 115
6. Martynov F.T. Methodological aid "Socio-aesthetic foundations of engineering design and reconstruction of cities". Sverdlovsk, 1985.
7. Mkrtchyan S.V. Properties of environment as of an object of the engineering design effect. // Strategy of development of education: efficiency, innovation, quality. "Open education" journal topical appendix. Moscow/ MGU TU, 2008, p.p. 225-234
8. Ustinov A.G Certain issues of the systemic perception of the object of the arts design // Methodology of the arts design. Moscow, 1973 — (Tr. VNIITE, Technological aesthetics series; 4 issue).
About this article
Author:

Mkrtchyan S.V.



Year:

2014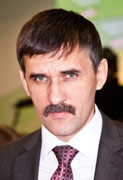 Editor-in-chief
Sergey Aleksandrovich
MIROSHNIKOV