Подача статей





Ishmaeva D.D., Vdovin V.M.
EXPERIMENTAL INVESTIGATION OF RIGID CONNECTION GLUED LAMINATED BEAMS ELEMENTS WITH GLUED-IN STEEL WASHERS
The problems associated with designing, calculation and production of rigid joints of laminated wooden beam elements are investigated. The results of experiment on rigid joints laminated beams formed by using glued-in steel washers are presented. The method for testing and designing rigid connection of glued wooden cross-beam structure elements is proposed.
Key words:
beam, glued laminated beams, steel washers, rigid connection, design model.
References:
1. Goetz, C.G. The atlas of wooden structures / K.G. Goetz, D. Hoor, K.Meller, J. Natterer, trans. from German. N.I. Alexandrova, ed. V.V. Ermolova. — M. Stroyizdat, 1985. — 272pp.
2. Carlsen, G.G. Wooden and plastic structures / G.G. Carlsen, V.V. Bolshakov, M.E. Kagan. — M. Stroyizdat, 1975. — 686pp.
3. Schmidt, A.B. The atlas of laminated wood and all-weather plywood structures / A.B.Shmidt, P.A.Dmitriev. — Moscow: Publishing Association Building universities, 2002.
4. Vdovin, V.M. Wooden and plastic structures / V.M.Vdovin. — Rostov-on-Don: Phenix, 2007. — 250pp.
5. Vdovin, V.M. Glued-in metal washers in the of wooden structure connections: monograph. / V.M. Vdovin, M.V. Ariskin, D.D. Dudorova. — Penza: PGUAS 2012. — 184pp.
About this article
Authors:

Ishmaeva D.D., Vdovin V.M.



Year:

2014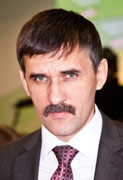 Editor-in-chief
Sergey Aleksandrovich
MIROSHNIKOV