Подача статей





Miazina N.G
LAKE CASPIAN BASIN HER FRAME AND THEIR PRACTICAL VALUE
In the present work the basic laws of formation and placing brines Near-Caspian syneclises are considered. Are analysed paleogeografichesky conditions solenakopleniye in territory of a hollow and the role tectogeneses and galogeneza in formation of brines is shown. The characteristic of the basic geochemical and genetic types of underground waters and brines is given, their genesis is considered. The chemical compound of brines is resulted and possibility of their complex use in the balneal purposes or as hydromineral raw materials is considered.
Key words:
lakes, rapa, dirts. underground hydroarea, the North-Caspian artesian pool, Perm hydrochloric galogenez, brines, rather waterproof the sulfate-halogen thickness, a chemical compound and a mineralization, the basic geochemical and genetic types, polycomponental hydromineral and balneological raw material.
References:
1. Afanasyev T.P. Underground waters of Central Volga Area and Prikamye and their hydrochemical ash value. M: prod. Academy of Sciences of the USSR, 1956. 263 pages
2. Derevyagin AS, Svidzinsky SA Sedlec VI Halogen and other Permian formation of the Northern Caspian. Rostov-on-Don: Rostov State University Publishing House, 1981. 397.
3. Richter JA Essays regional geodynamics Caspian basin and its framing. / Proc. NIIGeo im.Chernyshevskogo SSU. New. Ser. T. XIV.-Saratov: in Scientific Book, 2003. 86 with.
4. Brazhnikov OG, VN Mihalkova Features tectonics subsalt deposits of the Western Caspian) / / Geol. Basics of creating the Caspian oil and gas complex. Moscow: Nauka, 1990. With 105-110.
5. GOST 13273-88 Water mineral drinking water, therapeutic and therapeutic-table. M.: Out of the standards, 1988. 29 C.
6. Myazina NG Regularities of formation and distribution of mineral water in the Volgograd region hydrogeological structures [monograph] — Volgograd: Publishing House of the Volga, 2008. -212 S.
7. Myazina NG Hydrogeochemical characteristics of brines Caspian syncline // Geological evolution of interaction of water with rocks: Proceedings of All-Russian Conference with the participation of foreign-uchenyh. Tomsk: NTL in 2012. S.463-466.
About this article
Author:

Myazina N.G.



Year:

2014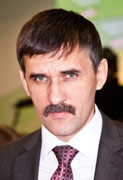 Editor-in-chief
Sergey Aleksandrovich
MIROSHNIKOV