Подача статей





Gurevitch K.G., Fesyun A.D., Suin P.A.
TRANSVERSE PLATYPODIA OF PROFESSIONAL HEALTH SYSTEM AT THE INTERNAL ARMY AVIATION FLIGHT PERSONNEL OF RUSSIAN MINISTRY OF INTERNAL AFFAIRS
The indirect signs of the transverse platypodia possible development, the backgrounds to it's development and further progression at the considerable quantity of persons at the Internal Army aviation flight personnel of Russian Ministry of Internal Affairs are revealed in the research paper conducted. The received data indicates the necessity of the purposeful complex examination of the pilots with the musculoskeletal system disease during the preparation for the annual medical examinations by medical flight committees.
Key words:
flight personnel, transverse platypodia, degenerative dystrophic changes, statistical deformation, foot's first ray hypermobility, Internal Army aviation of Russian Ministry of Internal Affairs.
References:
1. Asratyan, D.A. The method of surgical treatment of deforming arthrosis of the first metatarsus-phalanx joint / D.A. Asratyan // Genius orthopedics. — 2008. — №4. — P. 131-134.
2. Belenkiy, A.G. Flatfoot: presentation and diagnosis / A.G. Belenkiy // Consilium medicum. — 2005. — V. 7, №8. — P. 618-622.
3. Gerasimov, G.N. New in the diagnosis and treatment of transverse flatness of the foot: Dissertation is Candidate of Medical Science / G.N. Gerasimov. — Samara, 1998. — 164 p.
4. Kantur, V.А. Professional Health aviation pilots TOF: Dissertation is Doctor of Medical Science / V.A. Kantur. — SPb., 2006. — 318 p.
5. Picyk, S.G. The structure features of disqualification aviation flight personnel of the Armed Forces in 1991-2000 / S.G. Picyk, V.V. Kniga // Man in extreme conditions: health problems of adaptation and performance. 3 Materials of international scientific and practical Congress. — М., 2002. — P. 186-187.
6. Pogodin, Y.I. Psychophysiology of professional activity / Y.I. Pogodin, A.A. Bochenkov. — М.: "Paradis", 2007. — 280 p.
7. Ponomarenko, V.A. Aircraft. People. The Spirit. / V.A. Ponomarenko. — М., IP RAN, "Universum", 1998. — 320 p.
8. Chizh, I.М. Foot and issues of building a rational shoes / I.М. Chizh // Modern trends in the development of military medicine: Analytical review of the world literature. — М.: Voenizdat, 2005. — 31 p.
9. Bednarz, P. Modified Lapidus procedure for the treatment of hipermobile hallux valgus / P. Bednarz, A. Manoli // Foot Ankle Int. — 2000. — Vol. 21, N.10. — P. 816-821.
10. Morris, A. The use of quality of life data in clinical practice / А. Morris, D. Perez, В. McNoe // Quality of Life Research. — 1998. — Vol. 7. — P. 85-91.
About this article
Authors:

Gurevich K.G., Fesyun A.D., Suin P.A.



Year:

2014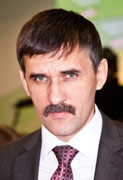 Editor-in-chief
Sergey Aleksandrovich
MIROSHNIKOV