Подача статей





Zinberg M.B., Nenasheva M.N.
GAS SULFUR IN THE NEWEST TECHNOLOGIES
Exclusive role of sulfur in a nature, its surprising features not peculiar to the majority of other chemical elements, cause interest to chemistry and technology of sulfur. One of ways of the decision of this problem is the development of effective processes final treatment of the biologically cleared waste water (BIOD), for example, filtering with use of cheap, accessible and similar materials. By firm "Ecobios" (Orenburg) for the first time in the world is scientifically proved and the opportunity of nonconventional application of gas sulfur for the decision of ecological problems proved, that opens, in our opinion new way to the world market of sales of sulfur in volume about $2 000 000 000 USA.
Key words:
Key word: gas sulfur, biological cleared waste water, microorganisms of cycling sulfur, regeneration of sulfur, sorbent, oil.
References:
1. Ustinov, G.I. Filtration, adsorption, and biochemical regeneration of the adsorbent in the preparation technology of wastewater for re-use in enterprises, processing hydrogen sulfide gases: Dis.:... Candidate. those. Sciences: 05.17.01 / Ministry of Gas Industry of the Order of Lenin All-Union Industrial Association "Orenburggazprom" Volga– Ural Research and Design Institute for the extraction and processing of hydrogen sulfide gas. — Orenburg, 1988. — 190 p. Refs.: P. 17-25.
2. Tsinberg, M.B. Hygienic aspects of microbiology and biotechnology for industrial wastewater treatment in the extraction and processing of high — Caspian hydrocarbons: Dis.:... Doc. honey. Science / Ministry of Health of the Russian Federation, Orenburg State Medical Institute. — Orenburg, 1993. — 50 p.
3. SP 32.13330.2012 "Sewer. External networks and facilities, "The updated version of SNIP 2.04.03-85.
4. Ahrens, V.J. Effective sorbents for oil spill / VJ Ahrens, Gridin OM // Ecology of Russian industry. — 1997. — №4. — P. 32-37.
About this article
Authors:

Tsinberg M.B., Nenasheva M.N.



Year:

2013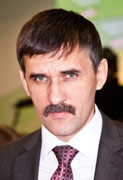 Editor-in-chief
Sergey Aleksandrovich
MIROSHNIKOV