Подача статей





Semenov E.A.
ECONOMIC EVALUATION OF NATURAL RESOURCES POTENTIAL FOR THE ORENBURG REGION
This paper analyses the natural resource potential of the Orenburg region, its importance in the socio-economic development of the region and the region's place in the territorial division of labor. The size and the spatial distribution of natural resources are given. The factors of economic evaluation and perspectives for rational and efficient use of natural resources in the region are defined.
Key words:
natural resources, natural resource potential, procurement of resources, economic evaluation.
References:
1. Geographical Atlas of the Orenburg region/scientific editor and compiler, RAS corresponding member, A.A. Chibilev. — Moscow: DIK Publishers; Orenburg: Orenburg Publishing House, 1999. — 95 p.
2. Lapaeva, M.G. The Economy of the Orenburg region (1743 — 2004). Monograph / M.G. Lapaeva, A.P. Lapaev. — Orenburg: PPC "Gazprompechat", 2006. — 468 p.
3. Orenburg Region. Natural Resources / Electronic data // http:www.orenburg-gov.ru
4. Orenburg Region. Business Guide / Akhmetov, R.Sh. Gerasimenko, T. E., Semenov, E.A. and others. — M., 1993. — 128 p.
5. Rusanov, A.M. The grouping of soils and agricultural land Orenburg region on the criteria of their pahotoprigodnosti // Soil Science, № 9, 2002. — Р. 1081 — 1088.
6. Semenov, E.A. Economic and Social Geography of the Orenburg Region: teaching aid / E.A. Semenov, T.E. Gerasimenko, R.Sh. Akhmetov. — Orenburg: OSU Publishing House, 2011. — 136 p.
7. Socio-economic Situation of the Orenburg Region in 2008: Statistics / Territorial Body of the Federal State Statistics Service of the Orenburg Region. — Orenburg, 2009. — 286 p.
About this article
Author:

Semyonov E.A.



Year:

2013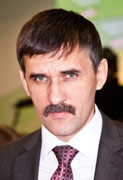 Editor-in-chief
Sergey Aleksandrovich
MIROSHNIKOV