Подача статей





Safonov M.A., Bulgakov E.A., Ostapenko A.V., Tyapukhin P.V.
THE IMPACT OF WOOD DESTRUCTION ON TEMPERATURE AND HUMIDITY CONDITIONS IN FOREST BIOGEOCENOSES OF THE SOUTHERN URALS
The results of daily monitoring of humidity and temperature in the forest ecosystems of the Southern Ural are discussed. The influence of the processes of wood degradation on microclimatic conditions is shown. The contribution of mycogenic wood destruction in formation of the climatic regime of the forest is discussed.
Key words:
forest biogeocenoses, mycogenic wood destruction, wood-destroying fungi, microclimate.
References:
1. Mukhin V.A. Biota of xylotrophic basidiomycetes of the West Siberian plain. — Ekaterinburg: Nauka, 1993. — 231 p.
2. Rafes M.P. Role and importance of herbivorous insects in the forest. — M: Nauka, 1968. — 233 p.
3. Safonov M.A. Structure of xylotrophic fungi communities. — Ekaterinburg: UrB RAS, 2003. — 269 p.
4. Safonov M.A. Resource potential of xylotrophic fungi of forests of the Southern Urals: Avtoref. dis... Dr. Biol. Sciences. — Orenburg: Publishing house of the OGPU, 2006. — 40 p.
5. Stepanova N.T., Mukhin V.A. Fundamentals of ecology of wood-destroying fungi. — M: Nauka, 1979. — 100 p.
6. Chastukhin V.Ya., Nikolaevskaya M.A. Biodecomposition and resynthesis of organic substances in nature. — Leningrad: Nauka, 1969. — 324 p.
7. Shurin J.B., Gruner D.S., Hillebrand H. All wet or dried up? Real differences between aquatic and terrestrial food webs //Proc. Roy. Soc. London, 2006. Vol. 273. P.1-9.
About this article
Authors:

Tyapuhin P.V., Safonov M.A., Bulgakov E.A., Ostapenko A.V.



Year:

2013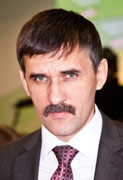 Editor-in-chief
Sergey Aleksandrovich
MIROSHNIKOV