Подача статей





Miazina N.G., Ponomareva P.A.
PROSPECTS OF THE USE OF BRINES FOR THE EXTRACTION OF IODINE ON ОOGCF
In the present work geologо-hydrogeological features of the Orenburg oil and gas condensate field, the main regularity of formation and placement of chloride brines, the characteristic of main geochemical and genetic types chloride brines. Examples of the chemical composition of interstitial waters and considered opportunity their application as hydromineral raw materials. The main theoretical and practical aspects of redox equilibria of the model and real iodine water systems. Diagrams Eh — pH for model and natural systems. We studied the influence of the chemical composition of salinity on the size and location of the fields of stability of iodine and its compounds.
Key words:
Orenburg oil and gas condensate field, iodine, bromine, produced water, chloride brines, chemical composition and mineralization main geochemical and genetic types, hydromineral raw materials, oxidation, charts Eh — pH.
References:
1 P. A. Ponomareva, Y.A. Neyasova Definition of physical and chemical parameters of Stripping iodine from the composition TBP with isooctane / International scientific publication "Modern fundamental and applied research": collected scientific articles. Trudy inst. / Educational centre "MASTER". -Kislovodsk: Izd-vo CA "MASTER", -2011. -№3. — P.116-123
2 V.I. Vernadsky History of natural waters. — Vol. 2,part 1, issue 1,2. — ONTI, 1934.
3 B.J. Rosen Geochemistry of bromine and iodine.– M: "Nedra", 1970. — 144 C.
4 E.E. Zakharova. Underground water of the Orenburg oil and gas condensate field as a possible source of hydromineral raw materials / Modern hydrogeology of oil gas (fundamental and applied questions). Materials of all-Russian scientific conference devoted to 85-anniversary of A. A. Kartsev — M: GEOS, 2010. — 533 C. — ISBN 978-5-89118-512-8
5 Geological structure and petroleum potential of Orenburg region. Ed. A. Panteleeva, Kozlova N. F. — Orenburg, 1997. — 270 C.
6.Robert M. Garrels, Charles L. Criest. Solutions, Minerals and Equilibria. -N.Y.,1965. -154-172 p.
About this article
Authors:

Myazina N.G., Ponomareva P.A.



Year:

2013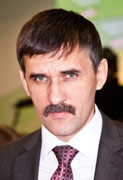 Editor-in-chief
Sergey Aleksandrovich
MIROSHNIKOV