Подача статей





Dibikhin K.Yu.
VECTOR DESIGNING OF THE SPATIOTEMPORAL MODELS OF ORGANIZATION OF ORENBURG REGION LANDSCAPE ECOSYSTEMS
The territory of the Orenburg region is presented by a landscape and soil variety, an extensive hydrographic network. On this complex the environment for formation of biogeocenoses, the local and focal ecosystems is formed, subject it is natural — to natural and anthropogenesis risks. Spatially — coordinate descriptions of natural and anthropogenesis geosystems, multiple layers, a vektorizations of their representation define. The structurally functional organization of landscape ecosystems is presented in the form of the existential models displaying an ecosystem, as the object which attributes are properties of integrating landscapes, a hydrographic network and an atmosphere interface. Results of researches are presented vector spatially — temporary models of the organization of landscape ecosystems which are placed in developed and programmatically realized bases "by Arkaim v. 1.0" , "LockalMeteoControl v. 1.0" spatially — the coordinate data adapted for integration into geoportals.
Key words:
landscape framework, ecosystem, existential models.
References:
1. Ufimtcev G.F. Sketches of theoretical geomorphology. / Resp. editor of academician N.A. Logachyov. — Novosibirsk : IN "Science". Siberian book-publishing firm, 1994. — 123 p. — ISBN 5-02-030524-3.
2. SRTM mission. [Electronic resource]. http://gis-lab.info/qa/srtm.html. It is checked 29.08.2013.
3. ESRI web service. [Electronic resource]. http://www.esri.com/software/ landsat-imagery/viewer. It is checked 29.08.2013.
4. Modern technology of preliminary and thematic handling of satellite pictures [Electronic resource]. http://www.scanex.ru/ru/software/ default.asp? submenu=imageprocessor&id=index. It is checked 29.08.2013.
5. Kim Dzh., Mьller Ch.U., Klekka U.R. Factorial, discriminant and cluster analysis. / Und. the edit. of I.S. Enyukova. — M. : Finance and statistics, 1989. — 215 p. — ISBN 5-279-00247-X.
6. Tikunov V.S. Modeling in cartography. — M. : Moscow State University publishing house, 1997. — 405 p. — ISBN 5-211-03346-9.
About this article
Author:

Dibihin K.Yu.



Year:

2013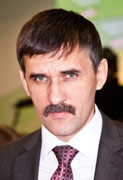 Editor-in-chief
Sergey Aleksandrovich
MIROSHNIKOV