Подача статей





Dibikhin K.Yu.
VECTOR DESIGNING OF THE SPATIOTEMPORAL MODELS OF ORGANIZATION OF ORENBURG REGION LANDSCAPE ECOSYSTEMS [№ 10 ' 2013]
The territory of the Orenburg region is presented by a landscape and soil variety, an extensive hydrographic network. On this complex the environment for formation of biogeocenoses, the local and focal ecosystems is formed, subject it is natural — to natural and anthropogenesis risks. Spatially — coordinate descriptions of natural and anthropogenesis geosystems, multiple layers, a vektorizations of their representation define. The structurally functional organization of landscape ecosystems is presented in the form of the existential models displaying an ecosystem, as the object which attributes are properties of integrating landscapes, a hydrographic network and an atmosphere interface. Results of researches are presented vector spatially — temporary models of the organization of landscape ecosystems which are placed in developed and programmatically realized bases "by Arkaim v. 1.0" , "LockalMeteoControl v. 1.0" spatially — the coordinate data adapted for integration into geoportals.
Dibikhin K.Yu. Sultanov N.Z.
TEMPORARY PARAMETERS OPTIMIZATION OF PROCESSES OF AIRCRAFT SPECIALIZED COMPLEX TECHNICAL PREPARATION [№ 10 ' 2006]
The process of technological preparation is determined with readiness of aircraft specialized complex (ASC) and realized by him technological process to passing of aircraft-chemical works (ACW). The problem of ASC readiness increase can be solved with time optimization (reduction) of preparation measures realization.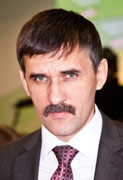 Editor-in-chief
Sergey Aleksandrovich
MIROSHNIKOV