Подача статей





Damrin A.G., Bozhenov S.N.
ISSUES INTERACTION OF SOUTH URAL ARTIFICIAL LAKES WITH LANDSCAPES BEACHES
The interaction of man-made reservoirs with coastal landscapes manifested in the formation of new types of banks and man-made landscapes. In this regard, the authors conducted typology shores of the Southern Urals and highlights the major types of banks.
Key words:
beach, coastal landscape, reservoir rock, artificial pond area, the coast.
References:
1 . Vendrov S. L. deacons K.N.Vodokhranilishcha and environmental environment. — M: Science, 1976. — 134 pages.
2 . Influence of water reservoirs on water and land resources: Theses of scientific and practical coordination meeting. (on May 27-28) / Otv. edition of Yu.M.Matarzin, — Perm, 1987. — 131 pages.
3 . Damrin A.G. Dynamics and the current state of landshaftnogidrotekhnichesky systems of the Orenburg region//Steppes of Northern Eurasia. Reference steppe landscapes: problems of protection, ecological restoration and use: Materials III int. symp. — Orenburg, 2003. — Page 162-165.
4 . Damrin A.G. Main types of coastal and water ecotones of the Iriklinsky water reservoir//stepevedeniye Questions: School seminar materials of steppe scientists. — Orenburg, 2002. — Page 44-47.
5 . Matarzin YU.M. new rural Yu.I.Gidrologo-morfologicheskoye division into districts of flat water reservoirs of valley type//Waters. resources. — 1983 . -?3. — Page 84-93.
6 . Mikhno V. B., Dobrov A.I. Landscape and ecological features of water reservoirs and ponds of the Voronezh region: Monogr. / Under. edition of prof. V. B. Mikhno. — Voronezh:izd. Voronezh. State. ???. un-that, 2000. — 185 pages.
About this article
Authors:

Damrin A.G., Bozhenov S.N.



Year:

2013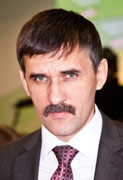 Editor-in-chief
Sergey Aleksandrovich
MIROSHNIKOV