Подача статей





Potokina S.M.
RENEWAL OF THE POPLAR BLACK (POPULUS NIGRA L.) ON A GRAVEL PIT IN THE SARAKTASHSKY REGION OF THE ORENBURG REGION
The poplar black — the Black poplar — (Populus nigra L) is one of the most fast-growing species of poplars and the least exacting to the soil. Natural renewal of a black poplar is considered on the example of a to grow of a pit of production of gravel in the Saraktashsky area. The pit territory, at the termination of its economic use is a perspective key site of simultaneous studying of developments of two age groups of associations of a poplar black.
Key words:
poplar black, environment factors, natural renewal, subgrowth, trial area.
References:
1. Alekseev YU.E. Zhmylev of Item Yu. Karpukhina E.A. Trees and bushes. — M: "ABF" publishing house, 1997.– (The encyclopedia of the nature of Russia)– P. 10.
2. Ivannikov S. P — Poplar. — M: Forest industry, 1980. — P.22.
3. Ryabinin Z.N. Velmovsky Item of Century. Wood and shrubby flora of the Orenburg region. The illustrated directory. It is gray. "Biodiversity of the Orenburg region". Yekaterinburg: UоRAS, 1999. — P.56.
About this article
Author:

Potokina S.M.



Year:

2013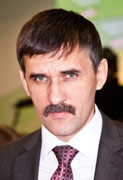 Editor-in-chief
Sergey Aleksandrovich
MIROSHNIKOV