Подача статей





Pikalova E.V., Stetsuk N.P., Nurmieva S.V., Abramova L.M.
BIOLOGY OF INVASIVE SPECIES AMBROSIA TRIFIDA L. IN THE CIS-URALS
Results of researches of invasive species Ambrosia trifida L. in the Cis-Urals of the Bashkortostan Republic and Orenburg region are given. Reliable distinctions of ruderal and flood-plain coenopopulations of species are shown. Further advance of Ambrosia trifida to the north is predicted.
Key words:
invasive species, Ambrosia trifida L., population, variability, biomorphological parameters.
References:
1. Abramova L.M. Ambrosia artemisiifolia and Ambrosia trifida (Asteraceae) in the south-west of the Republic of Bashkortostan / L. M. Abramova // Bot. Journal. — 1997. — T.82. — N 1. — P. 66-74.
2. Abramova L.M. The expansion of alien plant species in the Southern Urals (Bashkortostan): analysis of the causes of environmental threats and / L.M. Abramova //Ecology.– 2012.– N 5.-P. 1-7.
3. Abramova L.M., Esina A.G., Nurmieva S.V, Trofimov I.V. About the problem of invasive species in the southern Urals / L.M. Abramova, A.G. Esina, S.V. Nurmieva, Trofimov I.V. // Bulletin of the Orenburg State University.– 2009. — №10. Special issue "Problems of ecology of the southern Urals". Part 1. — P. 18-20.
4. Geltman D.V. On the concept of "invasive species" as applied to vascular plants / D.V. Geltman / / Bot. Journal. — 2006. — T.91.– N 8.– P.1222-1231
5. Golubev V.N. Ecological and biological features of herbaceous plants and plant communities, forest / V.N. Golubev. — Moscow: Nauka, -1965. -286 p.
6. Moskalenko G.P Quarantine weed plants of Russia / G.P. Moskalenko — Moscow, 2001. — 278 p.
7. Pikalova E.V., Stetsuk N.P. Estimation of intraspecific variation Ambrosia trifida L. in Orenburg and the Republic of Bashkortostan / E.V. Pikalova, N.P. Stetsuk // Bulletin of the OGPU: electronic scientific journal. — 2013. — №1(5). [Electronic resource]. URL: http://vestospu.ru/archive/2013/articles/Pikalova_stezuk_2013_1
About this article
Authors:

Pikalova E.V., Stetsuk N.P., Nurmieva S.V., Abramova L.M.



Year:

2013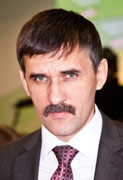 Editor-in-chief
Sergey Aleksandrovich
MIROSHNIKOV