Подача статей





Betechtina A.A., Gajsina D.F., Veselkin D.V.
FEATURES OF THE ROOTS STRUCTURE AND MYCORRHIZA FORMATION OF PLATANTHERA BIFOLIA AND DACTYLORHIZA HEBRIDENSIS IN DIFFERENT AGE STAGES
The sizes of additional roots and feature of mycorrhiza development at Platanthera bifolia and Dactylorhiza hebridensis were analyzed in different ontogenetic stages. It is established that intensity of mycorhiza development decreases upon transition from juvenile individuals to virginile, immature and generative. Thus the cross sizes of roots and, especially, extent of a mesoderm increase in process of age development of plants. As a result the quantity of a fungal mycelium in ontogeny investigated tuberous orchids remains to constants in terms of unit of length of a root.
Key words:
orchids, Platanthera bifolia, Dactylorhiza hebridensis, roots, mycorrhizae, ontogeny, morphogenesis.
References:
1. Vakhrameeva M.G. Genus Dactylorhiza // Biol. flora Moscow. region. MM: "Grief and K", 2000. MY. 14. S. 55-86 .
2. Selivanov, I.A. Mikosimbiotrofizm as a form consorts connection in the vegetation of the Soviet Union / Ed. TA Deeds . Moscow: Nauka, 1981. 232.
3. Sizov I.P., M.G. Vakhromeeva Some questions mycorrhiza formation in two species of the family Orchidaceae // Safety and cultivation of orchids. Kiev, 1983 . S. 41-43 .
4. Tatarenko I.V. Mycorrhiza of orchids (Orchidaceae) Primorsky Territory / / Bot. Journal. 1995. T. 80 . Number 8. S. 64-73 .
5. Tatarenko I.V. Orchids Russia: life forms, biology, protection. Moscow: Publishing House of the "Argus", 1996. 206 c.
6. Sokal R.R., Rohlf F.J. Biometry: the principles and practice of statistics in biological research. New-York: Freeman & Co, 1995 . 850 p .
About this article
Authors:

Betehtina A.A., Gaysina D.F., Veselkin D.V.



Year:

2013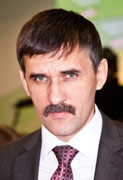 Editor-in-chief
Sergey Aleksandrovich
MIROSHNIKOV