Подача статей





Barysheva E.S., Barysheva D.A., Mlikov E.M., Obedkova Y.A.
STYDY OF THE EFFECT OF EXOGENOUS CHEMICAL FACTORS ON THE GENOMIC TOMATOES DNA
The article presents the results of investigation of the influence of exogenous factors on the chemical structure of the genomic DNA of plant origin.
References:
1. Johnson B.F., GMO foods and crops: Africa's choice, New Biotechnology 27, 609-613, 2010
2. Beral V., Herman C., Kay C., Hannaford P., Darby S., Reeves G. Мог tality associated with oral contraceptives use: 25 year follow up of cohort of 46000 // Brit. Med. J. 1999. Vol. 318, P. 96-101.
3. Bernard A. Kunz, Mutagenesis and deoxyribonucleotide pool imbalance, Mutation Research/Fundamental and Molecular Mechanisms of Mutagenesis, Volume 200, Issues 1–2, July–August 1988, Pages 133–147
4. Jiang J, Huo K, Wu Z, Chen S, Pu S, Yu Z, Liu X, Chu PK., Silicon-induced DNA damage pathway and its modulation by titanium plasma immersion ion implantation, Biomaterials. 2008 Feb;29(5):544-50. Epub 2007 Nov 5.
5. Mary E. Davis, Subacute toxicity of trichloroacetic acid in male and female rats, ToxicologyVolume 63, Issue 1, July 1990, Pages 63–72
6. Paul W. K. Rothemund, Folding DNA to create nanoscale shapes and patterns, Nature 440, 297-302 (16 March 2006)
7. Baedinhhaus M.P. Drying plants with preservation of natural color.: Izvestia, 1955. -48 с
8. Maddalena Querci, Marco Jermini and Guy Van den Eede, Analysis of Food Samples for the Presence of Genetically Modified Organisms PRACTICAL GUIDE, Luxembourg: World Health Organization Regional Office for Europe, 2007
9. Ulakhovich NA, Medyantseva EP, Babkin SS, Kutyreva MP, Gataulina AR, Metals in living organisms, Kazan University, Kazan, 2012.
About this article
Authors:

ObъedkovaY u.A., Barysheva E.S., Barysheva D.A., Mlikov E.M.



Year:

2013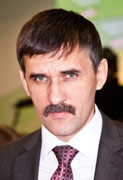 Editor-in-chief
Sergey Aleksandrovich
MIROSHNIKOV