Подача статей





Abramova L.M., Kryukova A.V.
RARE IRIS PUMILA L. SPECIES SEED PRODUCTIVITY IN NATURE AND IN THE INTRODUCTION
The results of the study of seed production of a rare species of Bashkortostan Iris pumila L. in nature and the conditions of introduction are given. The productivity of this species of low — in the nature of 10 to 42 seeds per fruit, number of fruits up to 1–4 per plant, in the conditions of introduction — from 26 to 52 pieces seeds per fruit, number of fruits — from 2 to 5 units. per plant.
Key words:
Iris pumila L., a rare species, seed productivity.
References:
1. Red book of the Republic of Bashkortostan. 2 t. T 1: Plants and fungi / Ed. by Dr. Biol. Sciences, Prof. B.M. Mirkin. — 2 edition, additional and overtime." — Ufa: MediaPrint, 2011. — 384 P.
2. Vaynagiy I.V. Concerning the Methodology for the studying of the plants seed productivity // Nerd. Journe. 1974. T.59. №6. P. 826-831.
3. Rabotnov T.A. The method of herbaceous plants seed propagation in communities investigations // Field geobotany. M.; L; 1960. T.2. P. 20-39.
About this article
Authors:

Abramova L.M., Kryukova A.V.



Year:

2013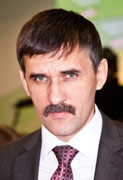 Editor-in-chief
Sergey Aleksandrovich
MIROSHNIKOV