Подача статей





Lizurchik L.V., Devyatkina T.A., Uksukbaeva A.K.
EFFECT OF PRENATAL TOBACCO INTOXICATION ON PHYSICOCHEMICAL PROPERTIES OF AMNIOTIC FLUID AND RED BLOOD CELLS (EXPERIMENTAL STUDIES IN RATS WISTAR)
The amniotic fluid and erythrocytes of pregnant rats with experimental tobacco intoxication were investigated and the research results were given in this paper. It was discovered that tobacco smoking made 1,25 times the erythrocytes diameter and 2 times the erythrocytes lysis proportion decreased, and 4,2 times cadmium and 2,7 times lead increased, and 1,7 times copper decreased.
Key words:
rat pregnancy, lead, cadmium, copper, amniotic fluid, the diameter of erythrocyte osmotic fragility.
References:
1. Andreeva T.I, Krasovskiy K.S, Tobacco and Health. Kyiv, 2004. 224.
2. Miroschnikov S.A., Lebedev S.V., Vishnjakov A.I.Element status and morphology and function of reproductive organs in chickens and mammals under the influence of the cadmium load / S.A. Miroshnikov, S.V. Lebedev, A.I. Vishnjakov / / Agricultural Biology, 2012. — № 2. S. 69-72.
3. Remizov A.N. Medical and Biological Physics: Textbook. for honey. specials. universities. — 2nd ed. Corr. — M.: High. School, 1996. — 608 p.
4. Remizov A.N., Maxine A. Problems in Medical and Biological Physics: Proc. allowance. — 2nd ed., Rev. and add. — M. ??Bustard, 2001. — 192 p.
5. Blokhin M.E. Essaulova IA, Mansurov GV Manual for laboratory work in medical and biological physics: Studies. allowance. — 3rd ed., Stereotype. — M. ??Bustard, 2002. — 288.
6. Potapenko A.Y., Kyagova A.A., Tikhomirov A.M. Measurement of the osmotic fragility of erythrocytes: Studies. Benefit HPE GRMU 2006.
7. Stryapkov A.V., Minaev V.A., Grigorenko T.A. Mathematical treatment of chemical experiment: Studies. allowance. — Orenburg: State OSU, 2005. — 165 p.
8. Avitsyn A.P., Lark A., Risch M., Strochkova L.S. Human microelementoses: etiology, classification, organopathology /; Academy of Medical Sciences. — Moscow: Medicine, 1991.
About this article
Authors:

Lizurchik L.V., Devyatkina T.A., Uksukbaeva A.K.



Year:

2013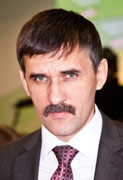 Editor-in-chief
Sergey Aleksandrovich
MIROSHNIKOV