Подача статей





Semenova I.N., Rafikova Y.S., Drovosekova I.V.
THE SELENIUM CONTENT IN THE HAIR OF TEENAGERS IN SIBAY
This article is devoted to the study of seleniumcontent in the hair of people living in the city of Sibai (Republic of Bashkortostan). The concentration of selenium in the hair of the population of Sibaiis below biologically acceptable level. The greatest deficiency of selenium detected in the hair of teenagers. The majority of people surveyed expressed error in the diet, regular use of vitamin and mineral supplements is common in the low percentage of cases.
Key words:
selenium, trace element status, morbidity, mining companies.
References:
1. Abdrakhmanova E.R. Health status and characteristics of trace-element composition of biological media inhabitants of the mining geochemical provinces: Auto — Ref. dis.kand.med.nauk: — Ufa, 2000. — 22 p.
2. Burceva T.I., Bolodurina I.P., Notova S.V. Golubev E.V., Bibartseva E.V., Chadova L.A., Burlutskaya O.I. On the question of participation in the formation of elemental selenium portrait of man / / Vestnic OSU, №5, 2006 Bioelementology application, P. 198-202.
3. Burceva T.I., Burlutskaya O.I. Selenium: essential trace elements (review) / / Vestnic OSU, №2, 2006 application Bioelementologiya, P. 7-9.
4. Miroschnikov S.A., Burceva T.I, Golubkina N.A., NotovaS.V. Skalny A.V., Burlutskaya O.I. Hygienic assessment of selenium status of the Orenburg region / / Vestnic OSU, №12, 2008. P.95-98.
5. Rafikova Y.S. Sibay trace element status of the population in terms of the technogenic pollution: Author. dis.kand.biol.nauk: — Togliatti, 2010. — 16 p.
6. Skalny A.V. The reference values??of the concentration of chemical elements in hair, obtained by ICP-AES / / Trace elements in medicine. — 2003. — T.4. — №1.– P.55 -56
7. Skalny A.V. Chemical elements in human physiology and ecology. — Publishing House "Onyx 21", 2004. — 216 p.
8. Skalny A.V., Gorbachev AL, MV Veldanova Elemental status north– east Russia. Orenburg: State OSU, 2004. P. 54-85.
9. Skalny A.V., Rudakov I.A. Bioelements in medicine. — Moscow: Publishing House "Onyx 21", 2004. — 272 p.
About this article
Authors:

Rafikova Yu.S., Semenova I.N., Drovosekova I.V.



Year:

2013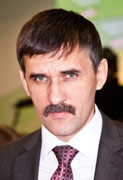 Editor-in-chief
Sergey Aleksandrovich
MIROSHNIKOV