Подача статей





Kabisheva M.I., Naumenko O.A.
SYSTEM OF PHYSICAL REHABILITATION STUDENTS WITH FUNCTIONAL DISORDERS MUSCULOSKELETAL
Identified demand for the development of athletic rehabilitation students with functional disorders of the musculoskeletal system. The directions of the rehabilitation system, interdisciplinary implemented in university with the department of physical culture, pedagogy, psychology, preventive medicine.
Key words:
physical training rehabilitation, disorders of the musculoskeletal system, students.
References:
1. Belikov J.A. Assessment of the musculoskeletal system among students of different medical groups / J.A. Belikov, V.L. Kondaks // Problems of physical education: content, focus, methodology, organization: Mater. II International. Scientific. Congress, 10-13 November 2011 / BFU. Immanuel Kant. — Kaliningrad, 2011. — P. 280-282.
2. Glazina T.A. Usov pedagogical development of humanistic orientation of students / T.A. Glazina // Bulletin of the Orenburg State University, of 2013. Number 2, p. 51 — 55.
3. Kabysheva M.I. Increased subject competence (based on physical culture of students of a technical college) / M.I. Kabysheva // dissertation for the degree of candidate of pedagogical sciences / Baltic Federal University. Immanuel Kant. Kaliningrad, 2000. — 22 p.
4. Kabysheva M.I. Prevention technology professional and destructions caused by students of economics / M.I. Kabysheva // Bulletin of the Orenburg State University., 2012. Number 2. P. 60 — 65.
5. Kashuba V.A. Biomechanics of Posture / V.A. Kashuba. — 2003. — 248 p.
6. Likhtina J.A. Improvement of physical education in higher education / J.A. Likhtina (Belikova) // Condition and prospects of development of physical education at the present stage: Mater. Intern. Scientific-Practical. Conf., dedicated. 40th Anniversary of the Faculty of FC Belgium, 17-20 October 2007 / BSU. — Belgorod, 2007. — P. 139-141.
7. Meshcheriakova G.P. Organizational and pedagogical maintenance of the health-saving technologies in the educational process of high school: Author. for a researcher. Ph.D. degree. ped. Science: special. 13.00.04 "Theory and Methods Phys. Education, Sport Training and Physical. culture "/ GP Meshcheriakova // SKGTU. — Stavropol, 2006. — 23 p.
8. Naumenko O.A. Experience in the implementation of the "Education and Health" in the Orenburg State University / O.A. Naumenko // Bulletin of the Orenburg State University. 2005. Number 11. P. 16.
About this article
Authors:

Kabysheva M.I., Naumenko O.A.



Year:

2013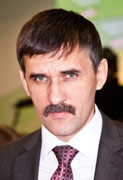 Editor-in-chief
Sergey Aleksandrovich
MIROSHNIKOV