Подача статей





Vlasov Y.L., Morozov N.A., Gavrilov A.A.
DYNAMIC MODEL OF UNIFORM TRAFFIC TANKERS WITHOUT CROSS SEPTA WITH A PARTIALLY FILLED
A model of sustainability tank partially filled with water in the curved section of the road. The dependences of the coefficients of stability of the car on the volume of fluid and coordinates of the center of mass of liquid in the tank.
Key words:
tank, stability, center of mass, inertia, curvilinear motion.
References:
1 Kovalenko, V. G. Системы обеспечения нефтепродуктами / V. G. Kovalenko, Каntоr F.M. , Habarov S. R. — М.: Nеdrа, 1982. — 237 p.
2 Efgrafov, А.N. Aerodynamics main road trains / А. N. Efgrafov, М.S. Vysotsky. — Мn.: Science and technology, 1988. — 255 p.
3 GOST R 52302-2004. Motor vehicles. Handling and stability. Technical requirements. Test methods. –2004-30-12. –М., 2005. — 27 p.
4 Vlasov, Y.L. Influence of the arrangement of the cargo the car on ctability of the car in turns / Y.L. Vlasov, N.A. Morozov, I.A. Bocharov, A.A. Gavrilov // Vestnik OSU. — 2011. -№4(123) — P.152-155.
5 Vlasov, Y.L. The calculation of the inertial characteristics of the tank partially filled [Electronic resource] / Y.L. Vlasov, A.A. Gavrilov. — Application (0,36 Мb). — Orenburg: ОSU, 2013.
About this article
Authors:

Vlasov Yu.L., Morozov N.A., Gavrilov A.A.



Year:

2013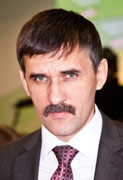 Editor-in-chief
Sergey Aleksandrovich
MIROSHNIKOV