Подача статей





Zubkova T.M., Mustyukov N.A.
MULTIVARIABLE OPTIMIZATION OF DESIGN OF A SINGLE-SCREW EXTRUDER IS BASED ON ADAPTIVE METHODS OF RESEARCH
The article describes the implementation of a genetic algorithm to get the geometric and structural parameters of the extruder. The developed software gives an opportunity to perform multivariable optimization, allowing to "improve" the technical and economic results of the technological process.
Key words:
design of extrusion machine, genetic algorithm, optimization module, module simulation, software system.
References:
1. Kartashov L.P., Zubkova T.M. Parametrical and structural synthesis of technological objects basis on the system approach and mathematical modeling. — Yekaterinburg: URO Russian Academy of Sciences, 2009. — 211 pages.
2. Sokolov M.V. "Research and optimization of process and extrusion equipment of rubber mixes": Dis. … Cand.Tech.Sci. Tambov, 2001. Page 118.
3. Plyaskin I.I. Optimization of technical solutions in mechanical engineering. — M.: Mechanical engineering, 1982. — 176 pages.
4. Emelyanov V.V., Kureychik V.V., Kureychik V.M. Theory and practice of evolutionary modeling. — M: Physmathlit, 2003. — Page 432.
5. Abu D. M. "Research and development the system of formation and reconfiguration architecture of design SAPR of radio-electronic equipment": Abstract thesis … Cand.Tech.Sci. St. Petersburg, 2009. Page 16.
6. Certificate of official registration the computer program No. 2011612043 Calculation of technical and economic parameters of single-screw extruder / T.M. Zubkova, N.A.Mustyukov, Koryakin ROSPATENT — to No. 2010617272 — It is declared 19.11.2010. — Opubl. 05.03.2011.
7. Tarkov M. S. Intellectual information systems in the conditions of uncertainty and risk//Neurocomputer systems. [Electronic resource], 2006. — Access mode: WWW.URL: http://www.intuit.ru/department/expert/neuro/15/neuro_15.html
About this article
Authors:

Zubkova T.M., Mustyukov N.A.



Year:

2013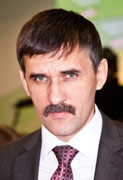 Editor-in-chief
Sergey Aleksandrovich
MIROSHNIKOV