Подача статей





Afanasyev V.N., Baranov D.A., Vlatskaya I.V., Ichkineeva D.A.
APPLICATION OF GRAFOSEMANTIC MODELING FOR THE ANALYSIS OF SUBJECT DOMAINS OF SCIENTIFIC PRODUCTION AGENTS (ON THE EXAMPLE OF THE JOURNAL "VOPROSY ECONOMIKI")
The paper deals with the possibilities of method of grafosemantic modeling in relation to a problem of the analysis and assessment of subject domains of scientific production agents. As an example the articles from journal "Voprosy Economiki" for 2010–2012 (36 issues) are investigated. The main steps of grafosemantic model construction are described, the problems arising at modeling of subject domains of scientific production agents are considered. Some types of the analysis applicable to grafosemantic model are shown.
Key words:
grafosemantic modeling, modeling of subject domains, scientometrics, cluster analysis.
References:
1. Citation Statistics: Rep. / IMU, ICIAM, IMS ; Executor: Robert Adler, John Ewing, Peter Taylor : 2008. — P. 28.
2. Lawrence Peter. Lost in publication: how measurement harms science // Ethics in Science and Environmental Politics. — 2008. — no. 8.
3. Boyack Kevin W, Klavans Richard. Co-citation analysis, bibliographic coupling, and direct citation: Which citation approach represents the research front most accurately? — 2010. — Vol. 61, no. 12. — P. 2389–2404.
4. Small H., Upham S. P. Co-citation structure of an emerging research area on the verge of application // Scientometrics. — 2009. — Vol. 79, no. 2. — P. 15–38.
5. Belousov K.I. Theory and methodology of polystructural text synthesis. — M.: Flint, 2009. — P. 216.
6. Belousov K.I., Zelyanskaya N. L., Baranov D. A. Conceptual model of hypertext content management in "Semograf" IS / / Vestnik OSU. — 2012. — T. 11, No 147. — P. 56-61.
7. The mathematical formalization of graphosemantic modeling method: Techniques and Technology: new prospects / Proceedings of the VIII International Scientific Conference; executed.: Baranov D. A. — M.: 2013. — P. 70-78.
8. Semograf. — URL: http://new.semograf.com (date accessed: 04.08.2013).
9. Graphosemantic modeling system / D. A. Baranov, K. I. Belousov, I. V. Vlatskaya, N. L. Zelyanskaya. — M.: State Registration Certificate of the Federal Service for Intellectual Property, Patents and Trademarks. Registered in the Registry of the computer programs No 20111617192 from 15.09.2011.
10. Kaymak U., Setnes M. Extended fuzzy clustering algorithms / / Erasmus research institute of management. — 2000. — P. 24.
About this article
Authors:

Afanasyev V.N., Baranov D.A., Vlatskaya I.V., Ichkineeva D.A.



Year:

2013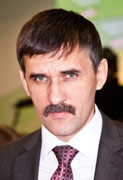 Editor-in-chief
Sergey Aleksandrovich
MIROSHNIKOV