Подача статей





Kalashnikova O.V., Chelpachenko O.E.
CLINIKAL-LABORATORY PAINTING OF POISONING LOCAL DECONGESTATIONS BY CHILDREN
Acute poisoning nasal solutions are wide spread by children. We were determined aethyological structure and clinic-laboratory painting of local decongestations poisonings by children what allows to diagnostic this pathology opportunity.
Key words:
children, local decongestations, poisoning.
References:
1. Markova I.V., Afanasyev V.V., CibulkinE.K.Clinikal toxicology by children and adolescentes: study assistance.– Sankt-peterburg.-1999.-vol.1.-p.3-18.
2. Korovina N.A., Zaplatnikov A.L. Acute respiratory virus infections in ambulatory practice by children doctor.-M.-2005.-p.
3. Zaplatnikov A.L. Local decongestations in paediatric practice: security and clinical efficaciensy.-Pediatria.-2006.-N6.-p.69-75.
4. Federal manual for doctors about using treatment remedies (formular system): issue 5.-M.: EHO.-2004-p.944.
5. Mahieu, L.M. Imidazoline intoxication in children / L.M. Mahieu, R.P. Rooman,E.Goossens // Eur. J. Pediatr.– 1993.– Nov.– №152 (11).-Р.944-946.
6. Jones, N.S. Current concepts in management of pediatric rhinosinusitis / N.S. Jones// J.Laringol. Otol. — 1999. — Vol.113.– P. 1-9.
About this article
Authors:

Kalashnikova O.V., Chelpachenko O.E.



Year:

2013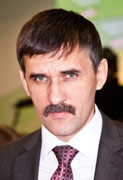 Editor-in-chief
Sergey Aleksandrovich
MIROSHNIKOV