Подача статей





Kolomiets G.G.
"MUSICALITY" AS THE UNIVERSAL AESTHETIC CATEGORY
Representing the category of "musicality" in the world of aesthetic values, the report's author based her "concept of the value of music as substance and means of value-based interaction between the man and the world". Aesthetic category "musicality" goes back to the view of music in the ancient philosophies. Music is the acoustic (or divine) substance enclosing a law of world order and thus is a way of learning and music is a necessary art for a man, the image of life. Music and musical expression are the universal harmony, fluid substance of the world, the universal rhythm and rhythm of human existence, process and function. Music permeates the expressive forms of being. In the modern world we should speak about the music existence on a global scale. In the higher forms of aesthetic activity musicality is present in all art forms and is particularly important in the modern aesthetic assimilation of the world. Musicality is a specific aesthetic category which can be also analyzed in the context of philosophy of everyday life. One of the essential problems of modern philosophy of music is a problem of innovative approach in a task-object field of aesthetics.
Key words:
aesthetics, music philosophy, value of music, musicality, the music personality.
References:
1. See Kolomiets G. G. Value of music: philosophical aspect.– Orenburg: OSU, 2006; Edition 2nd, 3rd, 4th: Moscow, URSS, 2007, 2009, 2012. — 532 p.
2. A.F.Losev. Music as a subject of logic. / The Most. Compositions. — Moscow, EKSMO-Press, 1999. — Page 689.
3. Nietzsche Fr. The birth of tragedy from spirit of music. — Moscow, AST, 2004. — Page 121.
4. Степин В.С. Цивилизация и культура. — СПб.: СПбГУП, 2011.– С. 20.
5. Shestakov V.P. Harmony as esthetic category. — Moscow. Nayka, 1973. — Page 32.
6. Boulez P. Musikdenken heute. Mainz, 1963.
About this article
Author:

Kolomiets G.G.



Year:

2013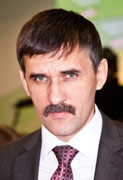 Editor-in-chief
Sergey Aleksandrovich
MIROSHNIKOV