Подача статей





Yuzhaninova E.R.
INTERNET: A NEW SPACE OF SELF-REALIZATION
The article discusses several areas of positive self-realization on the internet: on the basis of social networking, through the creation of a virtual character, by experimenting with its own electronic double-ganger and creativity. We pay the attention to the spread of negative forms of self-realization on the Internet among the younger generation. It is proved that self-realization on the internet is not a substitute for self-realization in the reality, but in the aggregate it helps to the becoming persons to find themselves and their place in the world.
Key words:
self-realization, the Internet, the potential of the individual, communication, creativity, a false self-actualization.
References:
1. Vodianova, N.V. Self-identity in the space of the Internet: the philosophical-anthropological aspect. Dis... to Philosophy. n. Chelyabinsk, 2009. — 167 р.
2. Gorokhov P.A. Ens realissimum. The life and philosophy by Johann Wolfgang Goethe: A monograph. Orenburg: IPK GOU OSU, 2006. — 344 p.
3. Goncharov, V.P. Internet as a factor in the transformation of culture and personal self-realization. Author. Ph.D. diss... Rostov-on-Don: JSC "Center of universal printing", 2012. — 24 p.
4. Zobov, R.A., Kelasev, V.N. Human self-realization: an introduction to anthropology. St. Petersburg.: Publishing House of St. Petersburg University, 2001. — 280 р.
5. Kebin, N.A. Sense-bases of formation and self-fulfillment. Dis... doctors filos.nauk. Moscow: Publishing House of Moscow State University, 2004. — 345 p.
6. Lebedeva, N.M., Tatarko A.M. The value of culture and society. Moscow House of HSE, 2007. — 527 p.
7. Pavlovskaya, O.V. Computer creativity in the information society. PhD Dis... Tyumen, 2006. — 165 p.
8. Cherkasov, G.K. Social law and way of life. — Irkutsk: Publishing House of Irkut. University, 1985. — 180 р.
9. Chechet, B.F. Essence, the conditions and trends of self-realization. Diss... k.f.n. Irkutsk, Publishing House of Irkut. State. University of Technology, 2002. — 157 p.
About this article
Author:

Yuzhaninova E.R.



Year:

2013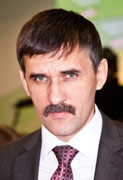 Editor-in-chief
Sergey Aleksandrovich
MIROSHNIKOV