Подача статей





Guman O.M., Kolosnitsyna O.A., Makarov A.B., Antonova I.A.
GEOECOLOGICAL ASSESSMENT OF NATURAL AND TECHNICAL SYSTEMS AT A REGRESSIVE STAGE TECHNOGENESIS (ON THE EXAMPLE OF YAMAN-KASA'S FIELD)
The main features of migration of heavy metals in natural and technical systems at a regressive stage technogenesis were considered on the example of Yaman-Kasa's field. Attenuation of geodynamic processes in system a pit and a dump was established at this stage. In natural environments the geoecological assessment of a condition of a field was givenby resultsof studying of heavy metals.
Key words:
Key words:technogenesis, geoecological assessment, regressive stage, kolchedanny ores, heavy metals.
References:
1. Guman O.M., Antonova I.A., Zakharov A.V., Makarov A.B. Assessing the environmental status and direction reclamation dumps Buribaevskogo MiningBuribaevskogo Mining / / Trans. Mining Journal. — 2011, № 8. S. 58-61
2. Emlyn E.F. Actively developed by asulphidefield as geotechnical system// Trans. Mining Journal. — 1984, № 9. S. 1-7
3. Emlyn E.F. Technogenesissulphidefields of the Urals. Sverdlovsk: Ural University Publishing House, 1991. 256.
4. Zaykov V.V. Volkanism and sulphide mounds of the paleooceanic structures: by the example of the Urals and Siberia massive sulphide bearing zones/ V.V. Zaykov; [Ed. By V.A. Koroteev]; Institute of Mineralogy of Ural Division of RAS. — Moscow: Nauka, 2006. — 429 p.
5. Makarov A.B., Antonova I.A., Guman O.M.Sulphate mineralization in the Urals mining systems//Bulletin of the Ural Branch of the Russian Mineralogical Society, № 9. Yekaterinburg: IGG UB RAS, 2012. S. 88-92.
6. RukhlovE.S., GatitskyV.N.The primary goals and objectivesof engineering measures in the designcareers / / Proceedings of the Ural State Mining and Geological Academy. Spec. MY. Yekaterinburg. — 2003. S. 224-227
7. Udachin V.N., Amin P.G., Lonschakova G.F., Deriagin V.V. The distribution of physico-chemical parameters in the career lakesBlyavinskogo and YamanKasinskogosulphide field(South Urals) / / Bulletin of the Orenburg University. — 2009. — № 5. — P. 65-71.
About this article
Authors:

Guman O.M., Kolosnitsyna O.A., Makarov A.B., Antonova I.A.



Year:

2013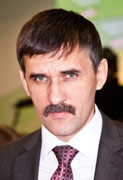 Editor-in-chief
Sergey Aleksandrovich
MIROSHNIKOV