Подача статей





Berezina T.V., Savin E.Z.
FEATURES OF GROWTH OF FRUIT CROPS ENTRE RIOS OF SAMARA AND BUZULUK
This article examines the soil and climatic conditions of the microrelief mikrousloviya and promoting safety and high productivity of fruit trees in the Urals. Optimum conditions develop on the sites protected from adverse climatic conditions by forest plantings, the settling-down on slopes southeast, southwest direction and with a close arrangement of water sources.
Key words:
microrelief, microclimate, apple-tree, pear, berry-pickers.
References:
1. Belousov M. K. Boldyrev M. I. Z.S Pyshina. Gerasimov N. I. Recommendations about technology of cultivation of intensive gardens in the Central Chernozem zone and the Volga region: recommendations — Moscow: "Colossus", 1983 — 50 p.
2 Kondratyev K.N. Assessment of ecological resources at gardening placement in the Volga region: method. recommendations — Moscow: Center of scientific and technical information, promotion and advertizing, 1990 — 24 p.
3. Malyshenko V. V., Lobachyov A.Ya. Lopantsev S. V., Recommendations about a laying of uterine podvoyno-seed gardens in Lower Volga Area: recommendations. — Volgograd: Printing house of the Volgograd agricultural institute, 1986 — 25 p.
4. Potapov V.A. Bobrovich L.V. Bonitirovka of gardens on the basis of valuation: Metodich. to the rivers. — Michurinsk, 1999 — 11с.
5. Potapov V.A. Bobrovich L.V. Technique of a bonitirovka of slaborosly gardens on the basis of valuation/VA. Potapov, L.V.Bobrovich//Slaborosloye gardening: Collection of reports. The international scientific and practical conference Michurinsk GAU, on July 23 — 24, 1999 — Michurinsk: MGAU publishing house, 1999. — h. I. — Page 69-72.
6. Semenovich G. I. Salmina T.A. Place choice under a garden in a zone of Central Volga Area: recommendations. — Moscow: ROSSELHOIZDAT, 1987 — 28 p.
7. Chetverikov F.P. Assessment of soil climatic conditions of the Saratov Zavolzhye for gardening development: yew. … edging. page x. sciences. — Michurinsk, 2002. — 120 p.
About this article
Authors:

Berezina T.V., Savin E.Z.



Year:

2013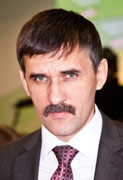 Editor-in-chief
Sergey Aleksandrovich
MIROSHNIKOV