Подача статей





Panchenko L.F., Bochenkov A.A., Chermyanin S.V., Suin P.A., Fesyun A.D.
NERVOUS AND EMOTIONAL TENSION OF THE FLIGHT PERSONNEL OF THE INTERNAL ARMY AVIATION AIRPLANES OF RUSSIAN MINISTRY OF INTERNAL AFFAIRS DURING NIGHT FLIGHTS IN DIFFICULT WEATHER CONDITIONS
Peculiarities of the nervous and emotional tension of the pilots and navigators of the Internal Army aviation airplanes of Russian Ministry of Internal Affairs during night flights in difficult weather conditions are revealed in paper. The peculiarities were reviewed by the intensity of the vegetative indicators (cardiovascular and respiratory systems). The received data indicates that the observed vegetative displacements and motive components of the emotional reactions reflect special features peculiar to this kind of flight.
Key words:
flight personnel, professional activity, nervous and emotional tension, vegetative functions, Internal Army aviation of Russian Ministry of Internal Affairs.
References:
1. Blaginin, А.А. Psychophysiological bases of military pilots / А.А. Blaginin // Military Psychology. — SPb.: Piter, 2005. — P. 403-436.
2. Bodrov, V.A. Medical and psychological aspects of professional performance recovery flight personnel / V.A. Bodrov // Professional health of pilots and flying longevity. — М.: Voenizdat, 1983. — P. 50-59.
3. Kantur, V.А. Professional Health aviation pilots TOF: Dissertation is Doctor of Medical Science / V.A. Kantur // Military Medical Academy behalf of the S.M. Kirov. — SPb., 2006. — 318 p.
4. Kondrakov, V.M. Diagnostic potential of the method of ECG-monitoring for pilots in flight / V.M. Kondrakov, V.I. Sinipolnikov // Military Medical Journal. — 1989. — №5. — P. 57-59.
5. Pogodin, Y.I. Psychophysiology of professional activity / Y.I. Pogodin, A.A. Bochenkov. — М.: "Paradis", 2007. — 280 p.
6. Ponomarenko, К.V. Ways to improve medical and flight review in the modernization of aircraft and weapons / К.V. Ponomarenko // Messenger МNАPChАК. — 2006. — №1 (20). — P. 5-14.
7. Ushakov, I.B. The age factor in the comprehensive assessment of the health of flight personnel / I.B. Ushakov, G.A. Batisheva, Y.N. Chernov [and all.] // Military Medical Journal. — 2010. — №3. — P. 56-60.
About this article
Authors:

Panchenko L.F., Bochenkov A.A., Chermyanin S.V., Suin P.A., Fesyun A.D.



Year:

2013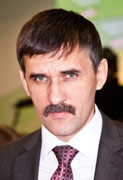 Editor-in-chief
Sergey Aleksandrovich
MIROSHNIKOV