Подача статей





Shurygina M.F., Borzenok S.A., Khlebnikova O.V., Solomin V.A.
CLINICAL AND MOLECULAR GENETIC CHARACTERISTICS OF CENTRAL HEREDITARY RETINAL DISEASE IN RUSSIAN FEDERATION
Clinical, functional and molecular genetic approach in diagnostic/differential diagnostic of hereditary retinal disease allow to define an etiology of pathological process and the level of damage of the retina, to understand how severe the retinal destroys are, that important for science and practice.
Key words:
Stargardt disease, Fundus Flavimaculatus, clinical and molecular genetic diagnosis.
References:
1. Gudzenko S., Khlebnikova O., Beklemishcheva N., Polyakov DNA-diagnostic of hereditary retinal disease caused by gene ABCA4 mutations // Meditsinskaya genetica. — 2006. — Vol. 5. — №9. — P. 37-41.
2. Khlebnikova O., Hereditary eye"s pathology in populations with different genetic structure. Author's abstract. … doc. of med. sciences. / O. Khlebnikova. — Moscow. — 1998. — 52p.
3. Shamshinova A. Local electroretinogramm used in ophthalmological practice // Author's abstract. … doc. of med. sciences. / Moscow. -1989. — 42 p.
4. Shershevskaya S. Basic forms of initial and secondary foveal dystrophies (clinic, diagnostic and some morphological questions). // Author's abstract. … doc. of med. sciences // Novokuznetsk. — 1970. — 30 p.
5. Cella W, Greenstein V.C., Zernant-Rajang J. et al. G1961E mutant allele in the Stargardt disease gene ABCA4 causes bull's eye maculopathy // Experimental Eye Research. — 2009. — Vol.89. — P.16–24.
6. Klien B.A., Krill A.E. Fundus Flavimaculatus // American Journal of Ophthalmology. — 1967. — Vol. 64. — №1. — P. 3-23.
7. Lewis R. A., Shroyer N. F., Singh N. et al. Genotype/phenotype analysis of a photoreceptor-specific ATP-binding cassette transporter gene, ABCR, in Stargardt disease // Am. J. Hum. Genet. — 1999. — Vol.64. — P. 422–434.
8. Michaelides M., Hunt D., Moore A. The genetics of inherited macular dystrophies// Journal of Medical Genetics. — 2003.– Vol. 40.– P. 641-650
About this article
Authors:

Hlebnikova O.V., Shurygina M.F., Borzenok S.A., Solomin V.A.



Year:

2013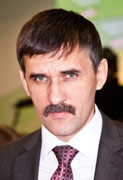 Editor-in-chief
Sergey Aleksandrovich
MIROSHNIKOV