Подача статей





Shmykov A.V., Fabrikantov O.L., Avdeev R.V., Vedrintseva N.V.
INDUCTION OF POSTERIOR VITREOUS DETACHMENT IN EPISCLERAL SEALING ON THE EYES WITH RHEGMATOGENOUS RETINAL DETACHMENT
Episcleral sealing was made in 55 patients (55 eyes) with rhegmatogenous retinal detachment (RRD). In 30 patients (30 eyes) surgical treatment was combined with intravitreal injection "Gemasa". Retinal detachment relapses occurred in two eyes (6.7%) of the patients treated with Gemasa and in four eyes (16%) of the patients of the control group. Intravitreal injection "Gemasa" prevents the vitreous body tractions on the retina and improves anatomical and functional results of RRD treatment.
Key words:
retinal detachment, vitreous body, retinal laser coagulation.
References:
1. Sdobnikova S.V., Fedorov A.A., Stolyarenko G.E et al. The status of posterior hyaloid membrane state in the development of retinal detachments. // New trends in vitreoretinal pathology treatment: Proceedings.– М., 2000.– P. 68-72.
2. Capeans C., Lorenzo J., Santos L. et al. Comparative study of incomplete posterior vitreous detachment as a risk factor for proliferative vitreoretinopathy // Graefes Arch Clin. Exp. Ophthalmol.– 1998.– Vol. 236.– No. 7.– P. 481-485.
3. Czajka M., Pecolld K. Use of enzyme in vitreoretinal surgery // Klin Oczna.– 2002.-Vol. 104.– No. 1.– P. 59-62.
4. Dayan M.R., Jayamanne D.G., Andrews R.M. et al. Flashes and floaters as predictors of vitreoretinal pathology: is follow-up necessary for posterior vitreous detachment // Eye.– 1996.– Vol. 10.– No. 4.– P. 456-458.
5. Hooymans J.M., De Lavalette V.W., Oey A.G.. Formation of proliferative vitreoretinopathy in primary rhegmatogenous retinal detachment // Doc. Ophthalmol.– 2000.– Vol. 100.– No. 1.– P. 39-42.
6. Kakehashi A., Kado M., Akiba J. et al. Variations of posterior vitreous detachment // Br. J. Ophthalmol.– 1997.– Vol. 81.– P.527-532.
7. Mester U., Anterist N., Kroll P. et al. The role of the vitreous in retinal detachment surgery with external buckling // Ophthalmologica.– 2002.– Vol. 216.– No. 4.– P. 242-245.
8. Sivkova N., Kreissig I. Rhegmatogenous PVR detachment: long-term results after extraocular minimal scleral buckling // Klin. Monatsbl. Augenheilkd.– 2002.– Vol. 219.– No. 7.– P. 519-522.
About this article
Authors:

Shmykov A.V., Fabrikantov O.L., Avdeev R.V., Vedrintseva N.V.



Year:

2013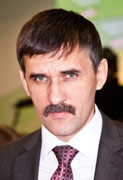 Editor-in-chief
Sergey Aleksandrovich
MIROSHNIKOV