Подача статей





Chudinova O.V., Khokkanen V.M.
OBJECTIFICATION OF ESTIMATION OF FOCAL REACTION FOR PROVOCATIVE TESTS IN CHORIORETINITIS PATIENTS
There was studied the possibility of objectification of focal reaction evaluation in patients with chorioretinitis by registration of changes in chorioretinal focus size through performance of provocation tests.
Key words:
chorioretinitis, etiological diagnostics, focal reaction, provocation tests, tuberculin, herpetic vaccine.
References:
1. Katsnelson L.A., Tankovskiy V.E. // Uveitis (clinic, treatment). — М, 1998.–203 p.
2. Tarasova L.N., Panova I.E. Tuberculosis affection of the eye: pathogenesis, new ways to improve diagnostics and treatment efficiency. Chelyabinsk, 2001. — 136p.
3. Ustinova Ye.I. Eye tuberculosis and similar to it diseases. St.Peterburg, 2002. — 276p.
4. Khokkanen V.M. Peculiarities of clinic, diagnostics and treatment in eye tuberculosis in modern social and epidemiological conditions: Author's abstract… doc. of med.sciences. SPb., 1999. — 34p.
5. Khokkanen V.M. Eye tuberculosis // Phthisiatry: national guidance /ed. by M.I.Perelman — М.: GEOTER-Media. — 2007. — P. 332-335, (disk).
6. Khokkanen V.M., Belova O.Yu. Fluorescein angiography of the fundus with tuberculous chorioretinitis: Methodical recommendations №99 / 161. — СПб., 2000. — 15p.
7. Khokkanen V.M., Belova O.Yu. Complications of tuberculous chorioretinitis and their diagnostics // Actual questions of inflammatory eye diseases. М., 2001. — P. 142 — 144.
8. Khokkanen V.M., Chudinova O.V. Ultrasound doppler in the diagnostics and uveitis clinic. SPb, 2007. — 128p.
9. Chentsova O.B. Eye tuberculosis. — М., Meditsina, 1990. — 256p.
About this article
Authors:

Hokkanen V.M., Chudinova O.V.



Year:

2013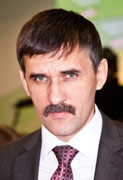 Editor-in-chief
Sergey Aleksandrovich
MIROSHNIKOV