Подача статей





Khokkanen V.M., Chudinova O.V.
MODERN APPROACH TO THE LASER TREATMENT OF CHORIORETINITIS
The possibility of complex laser-surgical influence on chorioretinal focus was studied. The use of this algorithm in treatment of focal chorioretinitis allows to accelerate the processes of repair, resorption of inflammatory masses, hemorrhages and, therefore, to speed up the process of rehabilitation.
Key words:
chorioretinitis, laser coagulation, focal laser coagulation, laser demarcation coagulation.
References:
1. Bykovskaya T.N. The value of immunological factors in the pathogenesis of bilateral and unilateral uveitis: author's abstract... cand.of med.sciences. М., 2000. -27 p.
2. Libman E.S.. Blindness, visual impairment and disability in Russia / E.S. Libman // Liquidation of avoidable blindness: VOZ global initiative: materials of Russian interregional symposium. М., 2003. — P. 39.
3. Penkov M.A. Complications of peripheral uveitis / M.A. Penkov, N.M. Avrushchenko, I.I. Solomatin // Ophthalmol. jour. 1987. — №3. — P. 156-157.
4. Khokkanen V.M. Peculiarities of clinic, diagnostics and treatment of eye tuberculosis in modern social and epidemiological conditions: Author's abstract … doc. of med. sciences. SPb., 1999 — 27p.
5. Khokkanen V.M. Eye tuberculosis // Guidelines for pulmonary and extrapulmonary tuberculosis / ed. by Yu.N.Levash, Yu.M.Repin. SPb.: ELBI-SPb, 2006. — P.306-316.
6. Khokkanen V.M. Argon laser photocoagulation in complex treatment of tuberculous chorioretinitis: Author's abstract… cand. of med. sciences. -L., 1990.-23p.
7. Dupont В. / B. Dupont, S. Kettering // 14-th European Histocompatibility Conference. Montpellier, 2000. — P. 33.
About this article
Authors:

Hokkanen V.M., Chudinova O.V.



Year:

2013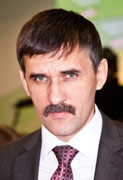 Editor-in-chief
Sergey Aleksandrovich
MIROSHNIKOV