Подача статей





Frolychev I.A., Pozdeyeva N.A.
VITRECTOMY WITH TEMPORAL PFOC ENDOTAMPONADE WITH SILICON OIL SUBSTITUTION IN POSTOPERATIVE ENDOPHTHALMITIS TREATMENT
Tactics of different ethiology endophthalmitis treatment was worked out. Endophthalmitis developed after different surgical interventions. Treatment is carried out in 2 stages. The first stage is partial vitrectomy without epiretinal exudate and posterior hyaloid membrane removal, temporal endotamponade with perftororganic compound (PFOC) finishes the surgery. In 10-14 days the second stage is carried out — revision of vitreal cavity with epiretinal exudate and posterior hyaloid membrane removal, tamponade with silicone oil for 3 months. Such approach allows to maintain visual functions and carry out surgical intervention in spite of poor intraoperative visualization of eye structures.
Key words:
postoperative endophthalmitis, vitrectomy, PFOC, silicon oil.
References:
1. Belyi Y.A., Tereschenko A.V., Shkvorchenko D.O., Makarov K.N., Yudina N.N., Noskova N.H. Use of ozonated perftororganic compounds in treatment of endophthalmitis// Ophthalmosurgery. — 2004. — N1. — Р. 31-34.
2. Gundorova P.A., Neroev V.V., Kashnikov V.V. Eye traumas. — М., 2009. — Р. 176-232.
3. Glinchuk Y.I., Gusev Y.A. Remoted clinical results of surgical treatment of postoperative endophthalmitis by method of subtotal vitrectomy and intravitreal antibiotics infusion // Actual problems of ophthalmology: scientific works collection –Ufa, 1996. — Р. 250-255.
4. Zakharov V.D. Vitreoretinal surgery. — M., 2003. -180 pр.
5. Hudiakov A.Y., Egorov V.V. Efficacy of silicon tamponade of vitreal cavity in treatment of endophthalmitis// Modern technologies of treatment of vitreoretinal pathology: scientific works collection –M, 2002. — Р. 294-297.
6. Aaerg T.M., Flynn H.W., Schiffman J., et al. Nosocomial acute onset postoperative endophthalmitis survey // Ophthalmol. — 1998. — V.105. — P. 1004-1010.
7. Berrocal A.M., Scott I.U., Miller D., Flynn H.W. Jr. Endophthalmitis caused by Moraxella osloensis. Graefes // Arch. Clin. Exp. Ophthalmol. — 2002. — №4. — V. 240. — P.329-330.
8. Sakamato T.K., Cruess A.F., Zoutman D.E., Evans G.A. Clindamycin-resistant Bacillus endophtalmitis // Can.J.Ophthalmol. — 1993. — Vol.28. -№7 — P. 339-342.
About this article
Authors:

Pozdeeva N.A., Frolychev I.A.



Year:

2013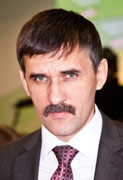 Editor-in-chief
Sergey Aleksandrovich
MIROSHNIKOV