Подача статей





Pozdeeva O.G., Kovalenko T.G., Lapina E.B.
CHARACTERISTICS OF EYEBALL VESSELS HAEMODYNAMICS IN PATIENTS WITH EARLY ARTERIAL HYPERTENSION IN COMBINATION WITH HYPERVENTILATION SYNDROME
On the basis of clinical material studies and monitoring of 23 patients with arterial hypertension, characteristics of local haemodynamics in eye and orbit vessels in young patients with early hypertension and retinal angiopathy under alveolar hyperventilation were identified.
Key words:
haemodynamics, eye vessels, arterial hypertension, hyperventilation syndrome.
References:
1. Volkova, E.G. The concept of common universal mechanism in the development, clinical course, clinical outcome of chronic non-communicable diseases / E.G. Volkova. Research and practice conference proceedings devoted to 100-th anniversary of the birth of Prof. M.V. Burgsdorf. Chelyabinsk, 1977. — P.2
2. Meerson, F.Z. Adaptation, stress, preventive care// F.Z. Meerson. — Moscow: Nauka, 1981. — P.277.
3. Kat'kova, E.A. Diagnostic ultrasonics, ophthalmology. Practice Guidelines/ E.A. Kat'kova / Edited by A.V. Zubarev. — M. OOO "Firma STROM", 2003. — 120 p.
4. Nasnikova I.Yu. New diagnostic capabilities in eye and orbit ultrasound investigation // I. Yu. Nasnikova, S.I. Kharlap, E.V. Kruglova // Echography. 2002. — Т.3, №3. — P.236 — 240.
5. Nasnikova I.Yu. Three-dimensional ultrasonic diagnostics of eye and orbit deseases. (Clinical guidelines) /I.Yu. Nasnikova, S.I. Kharlap, E.V. Kruglov. — M.: Publishing house RAMN, 2004. — 168p.
About this article
Authors:

Pozdeeva O.G., Kovalenko T.G., Lapina E.B.



Year:

2013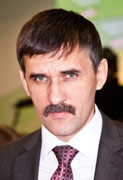 Editor-in-chief
Sergey Aleksandrovich
MIROSHNIKOV