Подача статей





Panteleev E.N., Malyugin B.E., Bessarabov A.N., Sobolev N.P., Agafonov S.G.
SELECTION OF OPTIMAL POSTOPERATIVE REFRACTION IN CATARACT PHACOEMULSIFICATION IN POST RADIAL KERATOTOMY PATIENTS
In the present study a possibility of selecting the optimal postoperative refraction in cataract patients after radial keratotomy were investigated in phacoemulsification. Refraction goals during phacoemulsification in cataract patients who have previously had a radial keratotomy are determined, by the choice of the patient and the overall treatment strategy. Calculation for emmetropia even with astigmatism allows to obtain a higher uncorrected visual acuity in comparison with the planned simple myopic astigmatism. Compound myopic astigmatism is a target refraction of choice for further excimer laser correction.
Key words:
target refraction, phacoemulsification, radial keratotomy.
References:
1. Maltsev EV Biological features of the disease and the lens / EV Maltsev, KP Pavlyuchenko. — Odessa: Astroprint. — 2002. — 448 p.
2. Rosenblum YZ, Optometry, St. Petersburg., -1996. — 34 p.
3. Fyodorov S.N., Durnev V.V. Application of the anterior keratotomy dosed with a view to surgical correction of myopia // Actual questions of modern ophthalmology: Proceedings. — M., 1977. — P.47-48.
4. Minarik K.R. Correction vision after RK / K.R. Minarik // Optom Manage. — 1995. — Vol. 30, №6. — P. 34–36.
About this article
Authors:

Panteleev E.N., Malyugin B.E., Bessarabov A.N., Sobolev N.P., Agafonov S.G.



Year:

2013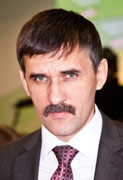 Editor-in-chief
Sergey Aleksandrovich
MIROSHNIKOV