Подача статей





Mushkova I.A., Kishkin Yu.I., Takhchidi N.Kh.
COMPARATIVE ANALYSIS OF OPHTHALMO-ERGONOMIC DATA AFTER FEMTOSECOND LASER-ASSISTED FEMTO-LASIK AND FEMTO-VISUM
Comparative analysis ophthalmo-ergonomic data after femtosecond laser-assisted Femto-LASIK and FemtoVisum did not reveal differences. Contrast sensitivity under photopic conditions after both types of surgery recovered to preoperative values.Contrast sensitivity under mesopic conditions after both types of surgeries did not recover to preoperative values.
Key words:
Femto-LASIK, myopia, visual functions, contrast sensitivity.
References:
1. Libman E.S.: Blindness, low vision and disability in Russia // Materials of Russian symposium "Elimination of blindness ". — Ufa, 2003. –P. 38-42.
2. Duffey RJ, Leaming D. US trends in refractive surgery: 2004 ISRS/AAO Survey.//J Refract Surg. 2005 Nov-Dec; 21(6):742-8.
3. Avetisov S.E., Мamikonyan V.R. Refractive surgery. –М., 1993. — 120 p.
4. Balashevich L.I. Excimer laser keratectomy technique//Refractive surgery. — М., 2002. — P. 93-94.
5. Chan A., Ou J., Manche E. E. Comparison of the femtosecond laser and mechanical keratome for laser in situ keratomileusis// Arch. Ophtalmol.-2008 — Vol. 126.– No. 11 — P.1484– 1490
6. Montes-Mico R., Rodriguez-Galietero A.,, Jorge L. A., Femtosecond Laser versus Mechanical Keratome LASIK for Myopia //Ophthalmology.– Volume 114 — Issue 1, January 2007. — P.– 62-68
About this article
Authors:

Tahchidi N.H., Mushkova I.A., Kishkin Yu.I.



Year:

2013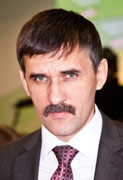 Editor-in-chief
Sergey Aleksandrovich
MIROSHNIKOV