Подача статей





Malyugin B.E., Panteleev E.N., Bessarabov A.N., Malyshev V.V.
FEATURES OF CATARACT SURGERY IN POST-VITRECTOMY EYES
During phacoemulsification in post-vitrectomy eyes appropriate reducing the length of the corneal tunnel, increasing emergence of the phacoemulsification needle relative to the irrigation sleeve, reducing the working angle of the chopper, use of vitreotome for posterior capsule fibrosis after IOL implantation. Combine to reduce the risk of complications. Сonstant A modification (Am=A-0.9) will let in most cases to achieve the goal refractive.
Key words:
phacoemulsification, vitrectomy, IOL
References:
1. Glinchuk Ya.I., Yugay A.G., Glinchuk N.N., Deev L.A., Tevtadze G.T. Surgical technique and clinical results of extracapsular cataract extraction in patients with a history of vitrectomy for proliferative diabetic retinopathy over. — Ophthalmosurgery 1992, 3:24-27.
2. Bilinska E., Nawrocki, Suprunowicz I, Omulecki W. Refraction changes after cataract extraction with IOL implantation in the eyes with previous performed vitrectomy. Klin Oczna 2002; 104 (5-6): 344-346.
3. Biro Z, Kovacs B. Results of cataract surgery in previously vitrectomized eyes. J Cataract Refract Surgery 2002; 28: 1003-1006.
4. Chang MA, Parides MK, Chang S, Braunstein RE. Outcome of phacoemulsification after pars plana vitrectomy. Ophthalmology 2002; 109: 948-954.
5. Diaz Lacalle V, Orbegozo Garate FJ., Martinez Alday N, Lopez Garrido JA, Aramberri Agesta J. Phacoemulsification cataract surgery in vitrectomized eyes. J Cataract Refract Surgery 1998; 24: 806-809.
6. McDermott ML., Puklin JE., Abrams GW., Eliott D. Phacoemulsification for cataract following pars plana vitrectomy. Ophthalmic Surg Lasers 1997; 28: 558-564.
7. Pinter SM., Sugar A. Phacoemulsification in eyes with past pars plana vitrectomy: case — control study. J Cataract Refract Surgery 1999; 25: 556-561.
8. Scott IU., Flynn HW. Cataract surgery in previously vitrectomized eyes. Ophthalmol Clin North Am 2001; 14: 595-600.
About this article
Authors:

Malyugin B.E., Panteleev E.N., Bessarabov A.N., Malyshev V.V.



Year:

2013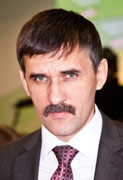 Editor-in-chief
Sergey Aleksandrovich
MIROSHNIKOV