Подача статей





Kishkin Yu.I., Takhchidi N.Kh.
EFFECTIVENESS OF THE Q-VALUE GUIDED FEMTOLASIK FEMTO-VISUM
Q-value guided FemtoLASIK Femto-Visum is shown to be effective. The aberrations changed slightly after Q-value guided FemtoLASIK from conventional FemtoLASIK.
Key words:
myopia, visual quality, aberrations, Q-value, FemtoLasik.
References:
1. Balashevich L.I. Optical aberration: diagnostics and correction // Оculist.-2001-№6 (22).-P.12-15.
2. Egorova G.B, Borodina N.V., Bybnova I.A. Aberrations of human eye, ways of measuring and correcting//Russian Medical journal.-2003.-Т.4.-№4.-P.4-9.
3. Semchishen V., Mrokhen M., Sailer Т. Optical aberrations of human eye and their correction //Refractive surgery and ophthalmology.-2003.-Т.3-№1.-P.5-13.
4. Buzzonetti L, Petrocelli G, Valente P, Tamburrelli C, Mosca L, Laborante A, Balestrazzi E. Comparison of corneal aberration changes after laser in situ keratomileusis performed with mechanical microkeratome and IntraLase femtosecond laser: 1-year follow-up.//Cornea.- 2008 — Vol.27. — P. 174-9.
5. Krueger RR, Dupps WJ Jr.Biomechanical effects of femtosecond and microkeratome-based flap creation: prospective contralateral examination of two patients. // J Refract Surg. -2007 — Vol.23. — P. 800-7.
6. Llorente L., Barbero S., Merayo J., Marcos S., Total and corneal optical aberrations induced by laser in situ keratomileusis // J. RefractSurg.-2004.-Vol.20.-P.203-216.
7. Medeiros FW, Stapleton WM, Hammel J, Krueger RR, Netto MV, Wilson SE. Wavefront analysis comparison of LASIK outcomes with the femtosecond laser and mechanical microkeratomes. //J Refract Surg. — 2007 — Vol.23.-P. 880-7.
8. Tran DB, Sarayba MA, Bor Z, Garufis C, Duh YJ, Soltes CR, Juhasz T, Kurtz RM. Randomized prospective clinical study comparing induced aberrations with IntraLase and Hansatome flap creation in fellow eyes: potential impact on wavefront-guided laser in situ keratomileusis. // J Cataract Refract Surg. 2005 Jan. –Vol.31. — P. 97-105.
9. Zernike F. Beugungstheorie des Schneindenverfahrens und seiner verbesserten Form der Phasenkontrastmethode // Physical.-1934.-No.2.-P.689-704.
10. Zhang ZH, Jin HY, Suo Y, Patel SV, Montes-Mico R, Manche EE, Xu X. Femtosecond laser versus mechanical microkeratome laser in situ keratomileusis for myopia// J Cataract Refract Surg. -2011 Dec. –Vol.37.– P. 2151-9.
About this article
Authors:

Tahchidi N.H., Kishkin Yu.I.



Year:

2013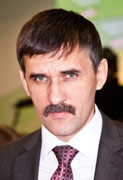 Editor-in-chief
Sergey Aleksandrovich
MIROSHNIKOV