Подача статей





Maksimenko E.I.
RELATION OF PUBLIC AND PRIVATE INTERESTS IN THE RULE OF LAW STATE WITH REFERENCE TO THE JUDICIAL LAW: THEORETICAL AND INTERNATIONAL RIGHT ASPECTS
The article examines the question about the relation of public and private interests in the light of the international obligations of the state in sphere of human rights by means of realization of principles of the rule of law state.
Key words:
a rule of law state, international law, the international standards, human measurement, the public interest, the private interest, the judicial power, justice, procedural parity of private and public interests.
References:
1 Arkhipov S.I. Interests and valid behavior // Issues of the state, the right and social management: the Interuniversity collection of scientific works. — Sverdlovsk. — 1983. — p. 20.
2 Guskova, A.P. Judicial law: history and the present of the judicial power in sphere of the criminal trial: the monography. / A.P.Guskova, N.G.Muratova. — M.: Publishing Group "Lawyer", 2005. — p. 23.
3 Tyurina N.E. Public interest in the right of international trade. — Kazan: Publishing house of the Kazan university, 2003. p.32.
4 The Parisian charter for new Europe from November, 21 1990. Working international law. In 3 volumes. Composers Yu. M. Kolosov and E.S. Krivchikova. Vol. I. — M: Publishing house of the Moscow independent international law institution, 1996. — p. 695
5 The protocol dated on 03.10.91 the document of the Moscow Meeting of Conference on Human measurement CSCE. // the Soviet magazine of international law. — 1991. — №3-4. — p. 115-133.
6 Conference on security and cooperation in Europe the document of the Copenhagen Meeting of Conference on Human Measurement — Copenhagen, on June, 29 1990. // the International acts on human rights. The collection of documents. Publishing group "Norm — Infra " М., 1999.
About this article
Author:

Maksimenko E.I.



Year:

2013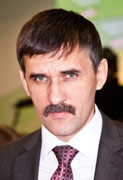 Editor-in-chief
Sergey Aleksandrovich
MIROSHNIKOV