Подача статей





Brazhnikova A.S.
SOURCES OF THE INCOME OF THE ORENBURG PROVINCE (BASED ON "GOVERNOR'S REPORTS" AND PREPARATORY OF STATISTICAL DOCUMENTATION FOR THE YEARS 1874–1878)
The problem of reliability of the statistical data containing in governor's reports is considered. On the basis of the analysis and comparison of these sources with initial statistical documentation the author comes to a conclusion about a contradiction and incomplete character of statistical data according to the income of the Orenburg province for 1874–1878, intended for inclusion in the governor's report.
Key words:
social and economic development of the region, agricultural year, province, governor, sources of the income, budget, preparatory statistical documentation, governor's report.
References:
1 Herman K. N. General theory of statistics. SPb. Publishing house: "Imperial Academy of Sciences". 1809. 305 p.
2 State Archive of the Orenburg Region (GAOO). F. 6. Op. 6. D. 44
3 GAOO. F. 6. Op. 7. 77
4 GAOO. F. 10. Op. 2. 78
5 GAOO. F. 10. Оp. 9. 41
6 GAOO. F. 11. Оp. 4. 49
7 GAOO. F. 11. Оp. 6. 25
8 GAOO. F. 11. Оp. 7. 22
9 GAOO. F. 164. Op.1. 61
10 Litvak B. G. Sketches of a source study of mass documentation. M.Izd-vo: "Science". 1997. 297 p.
11 Ryansky L. River, Ryansky L. M. To a problem of production and consumption of the Russian peasantry during a serf era. Publishing house: "Kursk state university". 47 p.
About this article
Author:

Brazhnikova A.S.



Year:

2013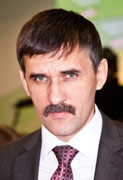 Editor-in-chief
Sergey Aleksandrovich
MIROSHNIKOV