Подача статей





Bormotova L.V.
FEATURES OF INFORMATION AND COMMUNICATION SUPPORT OF CRIMINAL LEGAL PROCEEDINGS IN RUSSIAN FEDERATION
Research of the regulatory issue of application of technical means in criminal legal proceedings. The author's position of the procedural importance of materials of the criminal case collected with application of information and communication technologies is given. Criteria of an assessment of the evidence obtained with application of technical means of fixing of information are allocated. Ways of reforming of the criminal procedure legislation taking into account possibility of use of technical means and the data received with their help, not only as auxiliary tools are designated at investigation and disclosure of crimes, but also fixed assets of recording of investigative actions.
Key words:
proofs, evaluation of proofs, methods of digital compression of information, polygraph, video conferencing.
References:
1 Vardanyan A.V., Nikitina E.V. The investigation of crimes in the area of high technology and computer information: Yurlitinform. — M., 2007. — p. 49.
2 Vekhov V.B. Forensic study of computer information and tools for its processing: Author. Doctor dissertation: 12.00.09 / Vekhov Vitaly Borisovich, Volgograd Academy of Russian Ministry of Internal Affairs. — Volgograd, 2008. — p. 11.
3 Gazizov V.A. Chetverkin P. A. Evidentiary value of the digital photo by production of expert researches in criminal trial//the Forensic expert, 2008, No. 1. — Page 19-27.
4 Galyashina E.I. Digital soundtracks as proofs//Forensic expert, 2008, No. 3. — Page 46-48.
About this article
Author:

Bormotova L.V.



Year:

2013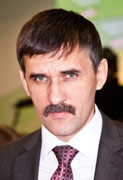 Editor-in-chief
Sergey Aleksandrovich
MIROSHNIKOV