Подача статей





Naseykina L.F.
FORMATION METHODS OF COMPETENCES IN AREA OF NETWORK INFORMATION TECHNOLOGIES OF IT STUDENTS IN CONDITIONS OF LEVEL EDUCATION
In article the technique of formation of competence in area of network information technologies, realized by IT-students training in conditions of transition to two-level education system is considered. The introduction of automated system in educational process of HEI developed on described structure is offered.
Key words:
professional competence, competence in area of network information technologies, automated system.
References:
1. Krysin, L. P. Explanatory dictionary of foreign words / L. P. Krysin. — M.: Russian Language, 2000. — 856 p.
2. Belonovskaya, I. D. Engineering competence of specialist: theory and practice of formation / I. D. Belonovskaya. — M.: Pedagogics House, 2005. — 241 p.
3. Shuytsev, A. M. Methods of professional competences' diagnostics of future physics teachers on the basis of up-to-date information technologies: thesis abstract / A. M. Shuytsev. — Ryazan, 2009. — 23 p.
4. Hutorskoi, A. V. Design technology of key and subject competences [Electronic resource] / A. V. Hutorskoi. — Access: http://www.eidos.ru/yournal/2006/0505.htm.
5. Shishov, S. E. Concept of competence in a context of education quality / S. E. Shishov // Standards and monitoring in education. — 1999. — № 2. — P. 30–34.
6. The Soviet dictionary on pedagogics / Comp. E. S. Rapatsevich. — M. : "Modern word", 2001. — 928 p.
7. Federal State Educational Standard of Higher Professional Training 2301000 — "Informatics and computer facilities" (bachelor) [Electronic resource]. — Access: http://www.osu.ru/docs/bachelor/fgos/230100b.pdf.
About this article
Author:

Naseykina L.F.



Year:

2013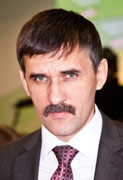 Editor-in-chief
Sergey Aleksandrovich
MIROSHNIKOV