Подача статей





Syrovatkina T.N., Fedorova O.I., Zueva E.G.
ESPECIALLY EDUCATIONAL SERVICE AS A PRODUCT OF ECONOMICS OF EDUCATION
Researched the economics of education and main product activities-educational service. Are the alternative concepts of the theory of economics education. Discovered new properties of educational services as a product of intellectual work, the process of creating value, the object of commercial relations, continuously increasing cost. The substantiation of the new properties of educational service.
Key words:
educational service, knowledge, intellectual work, use value, human capital, informatization, globalization.
References:
1. Chekmarev, V. V. System of economic relations in education [text]: scientific monograph / V. V. Chekmarev. — Kostroma: Publishing House of the Kostroma gospedunisersiteta them. Nekrasov, 1998. — 400 p.
2. Shchetinin, V. P. Economics of education: study guide / V. P. Shchetinin, N. A. Hromenkov, B. S. Ryabushkin. — Moscow: Russian teacher reported, 1998. — 305 p.
3. Belyakov, S. A. Lectures in economics of education [text]: tutorial / S. A. Belyakov. — M.: Maks press, 2007. — 424 p.
4. Enikeev, S. D. Market of educational services and methods of management [text]: the manual. — M.: Maks press, 2011. — 108 p.
5. Meserov, A. V. Real economics: mechanism of fictitious and real capital // Economic Science. — 2011. — № 4. — Р. 20–26.
About this article
Authors:

Syrovatkina T.N., Fedorova O.I., Zueva E.G.



Year:

2012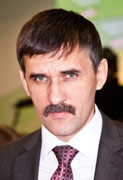 Editor-in-chief
Sergey Aleksandrovich
MIROSHNIKOV