Подача статей





Duskayeva A.X., Miroshnikov C.B.
THE INDICATIONS OF PROTEIN METABOLISM OF EXPERIMENTAL ANIMALS IN THE PROCESS ОF PHENOTYPIC ADAPTATION TO CHANGE THE DIET
The amino acids composition of the muscle tissue of experimental animals which received fast food and water with and without gas was studied. It was noted the negative impact of the experimental diet to the animals indications of protein metabolism.
Key words:
experimental animals, foods stress, rats males, fast food, amino acids and proteins.
References:
1. Bagaric M., Erbacher S. Fat and the law: who should take the blame? // J. Law Med. — 2005. — Vol. 12, №3. — Р. 323–339.
2. Notova S.V., Skalnaya M.G. Macro- and microcells in a food of the modern person: ekologo-physiological and social aspects / under the editorship of V.A. Tutelyan and A.V. Skalnogo. — M.: ROSMEM, 2004. — 310 p.
3. Loenneke J.P., Balapur A., Thrower A.D., Syler G., Timlin M., Pujol T.J. Short report: Relationship between quality protein, lean mass and bone health // Ann. Nutr. Metab. — 2010. — Vol. 57, №3–4. — Р. 219–220.
4. Duskayeva A.Kh. The analysis of consumption by students of HIGHER EDUCATION INSTITUTIONS of Orenburg of products of fast preparation according to questionnaire // Vestnik Orenburg state university. — 2011. — №15. — P. 48–51.
5. International guiding principles for biomedical research involving animals (1985).
About this article
Authors:

Duskaeva A.H., Miroshnikov S.V.



Year:

2012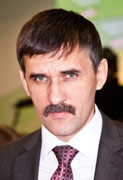 Editor-in-chief
Sergey Aleksandrovich
MIROSHNIKOV