Подача статей





Kargapoltseva D.S.
VALUES OF MONTESSORI-EDUCATION: ANTHROPOLOGICAL CONTEXT
Some content-essential aspects of basic values in pedagogical system of M. Montessori, which are stipulating high performance of educational development of becoming adult personality in conditions of unrestricted up-bringing are examined in the article.
Key words:
freedom, work, unrestricted work, "normalization through work", spiritually-developing the potential of hand.
References:
1. Montessori, M. Another Children / Maria Montessori, trans.from germ.; int. and concl. and article comments. K.E. Sumni-telny. — M.: Karapuz, 2004. — 336 р.
2. Montessori, M. My method: the initial training / Maria Montessori. — M.: Astrel: AST, 2007. — 349 p.
3. A work [Electronic resource]. — Access mode: ru.wikipedia.org>
4. Mind of the Child (chapters from the book) / M. Montessori. — M.: GRAAL, 1997. — 176 p.
5. Sumnitelny, K.E. Theory and practice of space education in the Montessori edu cational system: thesis. candidate of ped. sciences: 13.00.01 / K.E. Sumnitelny. — M., 1999. — 22 p.
6.Taranov, P.S. 500 steps to the wisdom / P.S. Taranov. — Donetsk: Stalker, 1996. — T. 1. — 464 p.
7. Teilhard de Chardin, P. The Phenomenon of Man:col. of comp. and essay / P. Teilhard de Chardin, trans. from fr. ;comp. and the foreword. V.Yu. Kuznetsov. — Moscow: OOO "Publishing House AS", 2002. — 553 p.
8. Ushakov, D.N. Big Dictionary of the Russian language. Modern edition / D.N. Ushakov. — M.: "House of Slavic books", 2009. — 960 p.
9. Philosophical anthropology [Electronic resource]. — Access mode: ru.wikipedia.org
About this article
Author:

Kargapoltseva D.S.



Year:

2012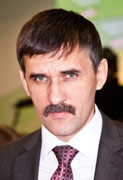 Editor-in-chief
Sergey Aleksandrovich
MIROSHNIKOV