Подача статей





Ivanov A.N.
"THEURGICAL ANXIETY" TRADITION OF INTELLECTUAL IN RUSSIA
The article analyses the development of Russian philosophy where in its intension the tradition of "theurgical anxiety" was displayed. Having appeared in religious outlook, it was displayed in secularism, developing from "abstract heroism" to "socialism". Today all arguing about Russia's fortune are being experienced as well as publicists of the past did.
Key words:
globalization, "global uncertainty", theurgical anxiety, intellectuals.
References:
1. Zenkovsky, V.V. History of Russian Philosophy. In 2 parts / V.V. Zenkovsky. — L.: "EGO", 1991. — P. 1, P. 2. — 280 p.
2. Bulgakov, S.N. Dva grada. The research about the nature of public ideals / S.N. Bulgakov. — SPb.: Izd-vo RHSI, 1997. — 589 р.
3. Robertson, R. Mapping the global condition: globalization as central concept / R. Robertson // Theory, culture a. soc. — L.; New Delhi, 1990. — Vol. 7, №3–4. — P. 15–30.
4. Malinovski, P. Russia in the context of global tendencies / P. Malinowski [Electronic resource]. — Access mode: www.archipelag.ru/authors/malinovsky/?library=1167
5. Tehranian, M. Taming Modernity: Towards a new paradigm / M. Tehranian, Tehranian K.K. // International communication and globalization. — L.; New Delhi, 1997. — P. 119–167.
6. Globalization: Countours of XXI century: ref. sb. In III parts / RAN INION. Centre of sciense-informative recearches and global regional problems. Department of Eastern Europe; Otv. red. P.V.Malinovsky. — M., 2002. — P. I. — Р. 130–131. — 264 p.
About this article
Author:

Ivanov A.N.



Year:

2012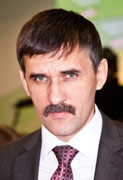 Editor-in-chief
Sergey Aleksandrovich
MIROSHNIKOV