Подача статей





Lazarev D.A., Kanygina O. N.
ABOUT DEFINITION OF THE SIZES OF AREAS OF COHERENT DISPERSION OF CRYSTALS OF QUARTZ IN CLAY SYSTEMS
The sizes of areas of coherent dispersion of quartz in brick clay depending on temperature of roasting and fractional structure are defined. Connection between the sizes of areas of coherent dispersion and meso– and macroparameters of ceramic samples is established. The method of calculation of the sizes of areas of coherent dispersion is developed for quartz particles in clay polymineral objects with good reproducibility.
Key words:
area of coherent dispersion, quartz, ceramics, brick clay.
References:
1. Kanygina O.N., Chetverikova A.G., Kuleeva A.H., Anisina I.N., Volkov E.V., Semchenko V.Yu., Paukov M.M., Lazarev D.A. The modelling of evolution of Orenburzhye clay structure at thermal processes./ O.N. Kanygina, A.G. Chetverikova, A.H. Kuleeva, I.N. Anisina, E.V. Volkov, V.Yu. Semchenko, M.M. Paukov, D.A.Lazarev // The material of VIII All-Russian scientific and practical conference "The current information technology at science, education and practice". Orenburg, 25-27 of November. — Orenburg, IPK GOU OSU.– 2009.-P.264-269.
2. Kul'kov S.N., Bujakova S.P. Phase structure and features of formation of structure on the basis of the stabilized dioxide of zirconium//the Russian nanotechnologies. 2007. N 1-2. With. 119-132.
3. Micromechanical instability at deformation of porous ceramic materials: The report [The International conference on the physical mesomechanics, computer designing and working out of new materials, Tomsk, 23-28 august 2004] / Kul'kov S.N., Bujakova S. P, Maslovsky Century И//Fiz. Mesofur.: the international magazine.-2004.-7, special release P.1. — With. 131-134.
4. Kanygina O. N, Chetverikova A.G., Lazarev D.A., Salnikova E.V.Vysokotemperaturnye phase transformations in ferriferous clay Orenburzhye. / O.N.Kanygina, A.G.Chetverikova, D.A.Lazarev, Е.В Salnikova//the Bulletin of the Orenburg state university, Orenburg, OSU, 2010. — №6 (112). — With. 113-118.
5. Tsybulya S.V. Rentgenostrukturnyj the analysis nanocrystal: development of methods and structure of metastable conditions in oxides metals nonstehiometriya structure: the author's abstract dis. … doctors of physical and mathematical sciences. / S.V.Tsybulja. Institute of a catalysis of G.K.Boreskova, Novosibirsk, 2004 — 37 with.
6. Rusakov A.A. Rentgenografija's hares of metals. _ М: Metallurgy, 1977. — 420 c.
About this article
Authors:

Kanygina O.N., Lazarev D.A.



Year:

2012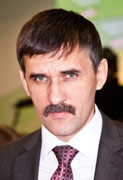 Editor-in-chief
Sergey Aleksandrovich
MIROSHNIKOV