Подача статей





Baranov D.A., Vlatskaya I.V., Senchishak T.I., Travkin S.A.
SPHERICAL APPROXIMATION OF THE FIREBALL BASED ON TWO SHOTS
This article focuses on the automated processing of experimental data obtained in the study of flammable liquids explosions with the formation of fireballs. The algorithms of fireballs allocation in a picture using fuzzy clustering and construction of the sphere, which approximates the surface of the fireball based on two shots were proposed.
Key words:
fireball, approximation, recognition, clusterization, digital images.
References:
1. Vostrikow, A. S. Digital image processing in information systems // Novosibirsk, NGTY, 2002.
2. Bojko, A. N., Computer graphics // Moscow, Bayman MGTU.
3. Jane, B. Digital image processing // Moscow, Technosphere, 2007.
4. Aleksandorw, P. S. The course of analytical geometry and linear algebra // Moscow, Science, 1979.
5. Checkmarev A. A. Descriptive geometry and drawing // Moscow, Vlados, 2002.
6. Begynov B. N. Geometrical optics / Moscow University Publishing, 1966.
About this article
Authors:

Baranov D.A., Vlatskaya I.V., Senchishak T.I., Travkin S.A.



Year:

2012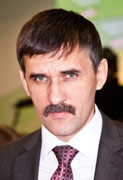 Editor-in-chief
Sergey Aleksandrovich
MIROSHNIKOV